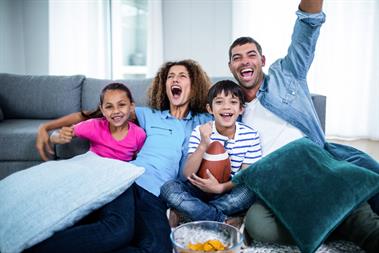 Thanksgiving is about being thankful for what you have and spending time with those you love most – friends and family. Home Telecom thinks that some of the best Thanksgiving Day memories are made in front of the TV – cheering and watching sports and oohing and awing over the parades.
You don't want to miss a minute of this turkey-packed game day action, so we've put together a NFL and college game schedule for you.
NFL Games (Thursday, November 23)
Minnesota Vikings at Detroit Lions, 12:30 PM ET, FOX (Ch 12 or 327 HD)
Los Angeles Chargers at Dallas Cowboys, 4:30 PM ET, CBS (Ch 9 or 325 HD)
New York Giants at Washington Redskins, 8:30 PM ET, NBC (Ch 3 or 323 HD)
College Games (Friday, November 24)
Baylor Bears at TCU Horned Frogs, 12:00 PM ET, FS1 (Ch 61 or 334 HD)
Miami FL Hurricanes at Pittsburgh Panthers, TBA
Virginia Tech Hokies at Virginia Cavaliers, TBA
South Florida Bulls at UCF Knights, TBA
Parades
Whether you prefer parades to sports or you like partaking in all the holiday action, here's the list of must-see parades.
Macy's Thanksgiving Day Parade (New York) – More than 3 million people gather along the streets of New York to watch the Macy's Thanksgiving Day parade and more than 44 million people tune in on TV to watch the magic of Snoopy, Kermit the Frog, clowns, festive floats and costumed characters. The parade kicks off at 9:00 AM on NBC (Ch 3 or 323 HD).
Novant Health Thanksgiving Day Parade – The largest parade in the southeast, tune in or line the streets to see elves, reindeer and Santa! You can tune in to the action on Thanksgiving Day at 1:00 PM by watching it live through the mobile app at https://guidebook.com/app/CLTParade/.
From our family at Home Telecom to yours, we wish you the best Thanksgiving and holiday season!