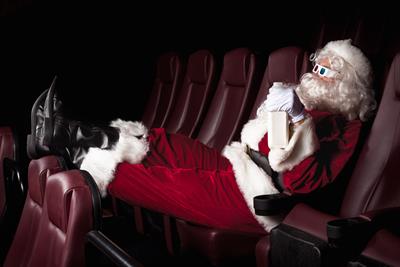 Christmas is just around the corner, which means movie binges, sweet treats, and family get-togethers! We can smell the mulled cider and popcorn already! There's no better way to celebrate the holidays with family than by turning on the TV, laughing away your stresses and watching some classic holiday films.
Here's a rundown on the list of terrific Christmas and holiday movies on Home Telecom's On Demand.
12 Days of Giving (2017) – This charming movie is about a man who is the recipient of a small fortune. Instead of becoming a Scrooge, he decides to share his wealth by acting as a Secret Santa.
A Christmas Story (1983) – This ultimate holiday classic takes place in the 1940s and is about a boy, Ralphie that tries to convince everyone that the coveted Red Ryder B.B. gun is the perfect Christmas gift. Who can forget the iconic Easter Bunny outfit present or the infamous leg lamp!
Christmas with the Kranks (2004) – The Kranks decide that since their daughter is away, they will skip Christmas. However, she ends up returning home, and the family kicks into high gear trying to celebrate the holiday at the very last minute.
Deck the Halls (2006) – Hilariously funny, this movie is about two neighbors that simply can't get along. They deck it out after one of them decorates his home so brightly with Christmas lights and decor that it's viewable from space!
Four Christmases (2008) – A couple that both have divorced parents struggle to take in all four Christmases with their families.
A Frosty Affair (2015) – This TV romantic comedy is about a small town teacher, named Kate Carter, who goes back to the city for her wedding. A blizzard strikes and forces her to travel with a stranger, which leaves her questioning her future plans.
Jingle All the Way (1996) – A father will stop at nothing to get his son the gift he wants for Christmas – a Turbo Man action figure. However, every store in town is sold out, and he must travel and compete with other parents to get his son the gift he wants.
Last Holiday (2006) – A shy woman is diagnosed with a terminal illness, which prompts her to sell off all her worldly possessions and live up her last holiday in a posh European hotel.
Love Actually (2003) – This movie is actually quite charming and takes place in London, England. Follow the love lives of eight different couples as they wind down the year and see how their lives intersect.
Miracle on 34th Street (1947) – An all-time Christmas classic, when a man claiming to be Santa Claus is checked into a mental institution because he's insane, a charming young lawyer defends him, arguing to the court that he's the real man in the red suit. We believe!
Planes, Trains and Automobiles (1987) – A man struggles to make it home for Thanksgiving, finding himself embarking on excursions involving planes, trains and automobiles, all while sharing his adventures with an obnoxious shower curtain ring salesman.
Scrooged (1988) – A three-way combination that involves a comedy, drama and fantasy, watch a self-centered, cynical rich man be haunted by three spirits as he learns valuable life lessons on Christmas Eve. Bill Murray plays the iconic Scrooge.
Snowmance (2017) – A romantic woman gets the gift of her dreams when Christmas magic brings a snowman to life.
The Spruces and the Pines (2017) – A man and woman that have competing Christmas tree farms struggle to conceal their romance and attraction.
White Christmas (1954) – The ultimate Christmas musical, this movie features famous song-and-dance routines. The two couples that team up must save the failing Vermont Inn.