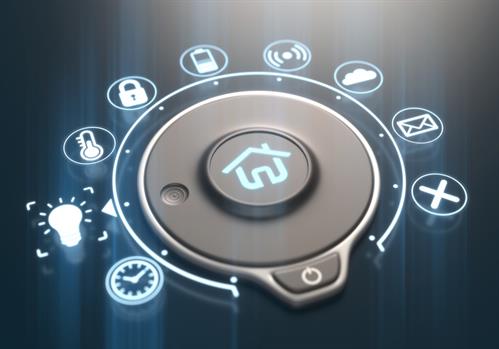 When we hear the term IQ, we usually think of the psychological intelligence quotient that is applied to measuring someone's intelligence level. However, is it possible for our homes to have an IQ? According to Google and Alexa, it's entirely possible for our homes to have their own level of smart IQ.
Today's technology has turned traditional homes into dwellings that team with technologies that make our lives easier and our homes smarter.
Smart home technology is a type of technology that is defined as "smart." It can monitor or control your home via a computer or Smart mobile device. These types of systems are designed to improve energy usable, safety, comfort and convenience.
Homeowners use these types of systems to improve their lives. In fact, nearly 45 percent of homeowners that renovate their homes incorporate smart features in their homes.
This technology can, however, leave you feeling overwhelmed and wondering where you can even begin when wanting to incorporate it into your current home. Home Telecom has made is easy and breaks down today's smart technology into specific categories.
Integration
This is the type of software that allows you to communicate or "talk" to your devices. Google has Google Assistant; Amazon has Alexa and Apple has Siri. These three most popular integration programs allow you to provide voice commands to operate your smart systems. By giving commands, you can virtually perform web-based queries, control smart home devices and play media.
If This, Then That (IFTTT) is a free web-based program that connects your smart devices and allows you to create a string of commands. For example, IF the back door opens, THEN turn on the patio light.
When you're looking at purchasing smart systems, you may see "compatible with IFTT, Alexa," etc. This means that your system is compatible with your hub/controller.
Hubs and Controllers
These devices are speakers that receive your voice commands. They then work with your integration system to help complete your query or task.
Amazon Echo ($99) – This is Amazon's original bluetooth speakers that integrates Alexa. You can easily listen to podcasts, listen to podcasts just by giving Alexa voice commands.
Echo Dot ($45) – This is part of Amazon's Alexa system. It's a smaller, less expensive version of the traditional Echo. It easily connects to home speakers, which makes your listening experience more enjoyable.
Google Home ($130) – This device lets you use the Google Assistant system.
Wink HUB 2 ($99) – This hub's design links to several devices and is highly rated by PC Mag for top home automation hubs.
Apple HomePod (To Be Released) – Anticipated to arrive this winter, Apple's HomePod is said to have a powerful speaker, use Siri's voice commands and can download and play Apple Music.
Security Cameras
Security cameras are designed to give you peace of mind about your home and valuables; however, they are also useful tools for monitoring children and pets.
Nest Indoor Camera ($163) – Offering 24/7 live video and a 130-degree wide-angle view, night vision and other features, this Nest Cam detects motion to send you phone alerts or emails with photos. It also has a built-in microphone and speaker so you can listen to your pets or children.
Nest Outdoor Camera ($157) – This outdoor camera features the same camera as the above-mentioned indoor camera, but it includes a weatherproof enclosure and power cord.
Tend Secure Lynx Indoor ($58) – The camera features two-way audio, instant alerts, motion detection and intelligent facial recognition software and night vision.
August Smart Lock ($199) – This system works with your existing deadbolt and allows for a quick installation. It lets you control your front door via voice commands or your Smartphone. It's easy to restrict or grant access to visitors, automatically set the lock when you leave each morning or unlock it when you return.
Thermostats
If you often leave your heat or air conditioning on when going to work, this system offers the ideal solution.
Nest Thermostat – 3rd Generation Learning Thermostat ($249) – The Nest Thermostat is now entering its third generation, which features more energy efficiency improvements and a sharp display. After using the thermostat for one week, it learns your activities and schedules and automatically adapts to your life, which includes changing to accommodate different seasons.
Kits
Easy to install kits make it simple to incorporate smart home technology into your current home, whether you're building a new house or moving into an existing home.
Adobe Home Security Starter Kit ($299) – This kit is all-inclusive and features a gateway (hub), two window and door sensors, one motion-sensing camera and one remote key fob. It can support up to 160 connected devices.
Smartthings by Samsung ($249)- This kit includes a hub, two window and door sensors, one outlet control and one motion sensor. It does require monitoring service connection charges, which start at $22 a month. This system offers compatibility with hundreds of different smart devices.
Smart Appliances and Accessories
If you're looking to incorporate other types of smart home devices, check out this list.
L Series Ceiling Fan by Haiku ($550) – The fan will detect you when enter or exit a room and automatically turn off or on.
Smart Light Bulbs by Sylvania ($39.99/bulb) – This bulb can be set to any color, including white or a warm tone. You can control it via your hub or Smartphone, setting lighting schemes for reading, watching dinner or dining.
Refrigerator Hub by Samsung ($3,499) – This refrigerator features three cameras inside, which lets you check out your refrigerator from the grocery store. You can use the convenient touch screen to create a detailed shopping list, which you can access remotely. You can also receive expiration notices.
Home Telecom will be offering EXOS later this year. This unique, innovative service will manage your entire home network. This is known as "Managed Wi-Fi." You'll be able to connect, manage, secure and analyze your whole smart home system.