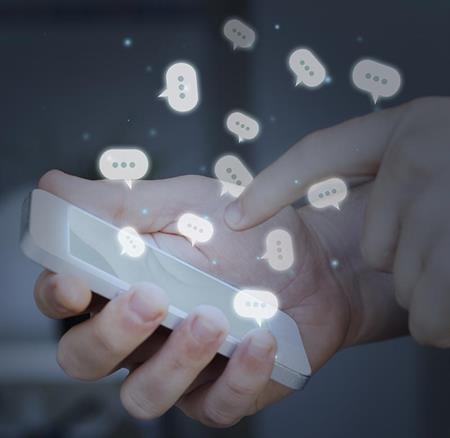 You've probably noticed that every social program has a form of instant messaging. Whether it is Snapchat, Facebook or Instagram, the convenience of quickly messaging people within these programs is rapidly gaining popularity.

Every day, we see a new messaging app enter the marketplace. But are these more useful than traditional SMS?

SMS (Short Message Service) is a type of traditional text messaging via telephone. It's what you think of when you hear the term "texting".

A messaging app is useful in certain situations, such as if you're traveling abroad and don't want to pay for texting services. Ultimately, social programs want you to replace your text messaging with their program.

If you have a Smartphone, you've probably already used messaging apps. If you have an iPhone, the native program is iMessages. If your messages are blue, it means you're communicating with another iPhone. If they're green, you're sending traditional SMS messages. If you have an Android, the native program is Google Hangouts for other Android and Google users.

Third-party messaging apps make things easy to communicate with people that don't share the same type of device, which is where Snapchat or WhatsApp gain popularity.

The appeal of using messaging apps varies for users. Some people would prefer to avoid SMS fees, which is great for international travel. Others use these programs to help keep their conversations private or set their status to let their friends know they're busy or traveling.

These programs allow people to use their data plans instead of their messaging plans. WhatsApp is among the most popular messaging programs in the world. It allows users to send photos, voice messages, videos, group chats and share their location without using their SMS plans. WhatsApp is also available for iOS, Windows, Android, Blackberry, Symbian and Nokia S40, which means that a wide range of users can easily communicate with one another.

Snapchat, on the other hand, uses the pitch that messages self-destruct to appeal to a younger audience. This way people can send videos and pictures without having to worry about the app saving them to its history. It's also an excellent way to send photos so your phone isn't full up on storage space.

The downside of social messaging apps is that if you're not on the social platform, you can't participate in the messaging program. For example, if you don't have a Facebook account, you can't participate in Facebook messenger. If your friends don't use WhatsApp, it's pretty much useless to you. This means that for now, traditional SMS is still the universal way to quickly and conveniently send messages back and forth among friends.