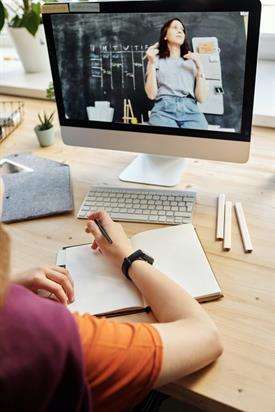 We know that school may look a little different amid this COVID-19 pandemic, making World Teacher's Day a little more important and unique this year.
World Teacher's Day is celebrated on October 5, and celebrated annually, commemorating the 1966 ILO/UNESCO Recommendation about the status of teachers. While many of you may not know about this Recommendation, it sets the necessary benchmarks for teachers' rights and responsibilities, and the standards they are held to further employment, recruitment, education, learning conditions, and teaching. In 1997, the Recommendation concerning the Status of Higher-Education Teacher Personnel was adopted, which compliments the 1966 Recommendation and covers research and teaching personnel in higher education roles.
This year's World Teacher's Day theme is "Teachers: Leading in crisis, reimagining the future." On October 5, we encourage you to celebrate teaching professionals worldwide, as they strive to teach all children, leaving no child left behind. You can read more about this year's theme in detail here.
While the pandemic has significantly increased the challenges teachers face in our over-extended education system, it's more important than ever for us to work with teachers and help protect the right to education.
This year's celebrations will be online, so we encourage you to tag your favorite teacher - or your child's favorite teacher - and hashtag #worldteachersday.
Maybe you're out of school and reflecting on your favorite pastime teacher. Or perhaps your child is in school, and you're helping supplement their education via distance learning. This annual celebration offers a critical time to reflect on our education system.
Even though your child may be learning via distance, or perhaps they have a hybrid approach that allows some in-person teaching instruction, have your kids do something special for their teachers. Some ideas include creating and designing a personal card, writing a poem showing their gratitude or sending a simple thank you via email. These simple gestures can be the highlight of a teacher's day.
School administrators can help celebrate their staff by coordinating and encouraging students and families to make videos expressing their appreciation for teachers and posting them online.
Remember, teachers help mold our future generations, so taking a moment to pause and say "thank you," and show appreciation is the least we can do. Remember, teachers matter too!