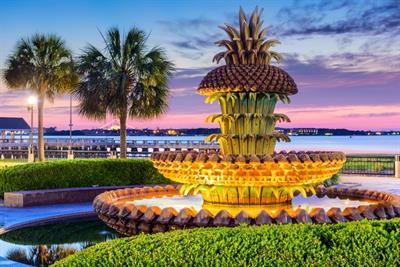 Charleston, South Carolina, is an attractive city during all seasons. However, fall is an especially beautiful time down south. This bustling city is perfect for both first time and returning visitors and features a variety of things to do and see.
Whether you're a history buff looking to see where the first shots of the Civil War were fired or you want a beach getaway and fishing tour, Charleston is a city you must visit.
Cannonborough/Elliotborough – This historic downtown neighborhood is known for its charming residential streets, laid back vibe and a superb selection of unique eateries. Here's a brief list of the eateries we love: 5 Loaves, Trattoria Lucca, Sugar Bakeshop and D'Allesandrandro's.
Isle of Palms – If you want a beach destination, don't forget to visit the Isle of Palms. Located a mere 16 miles east of Charleston, this stretch of beach wanders for 7 miles and is excellent for windsurfing, sailing, swimming or sunbathing. This area is ideal for families and features abundant beachfront vacation rentals and two nearby golf resorts. There are also more than 50 beach-access points along this stretch of shoreline.
The Battery – This stunning row of Southern-style mansions overlooks Charleston Harbor and was once bustling with maritime activities. Today, this picturesque row of houses attracts photographers from around the country. The nearby White Point Gardens features Civil War memorials and relics. You can also see Charleston's famous pineapple fountain, which is in Waterfront Park.
Middleton Place – Built in 1755, this stunning mansion was the home of Arthur Middleton, who was a signer of the Declaration of Independence. This mansion houses portraits, historic furniture and a stable that features heritage-bred animals. If you plan your trip right, you can also see a historical reenactment that highlights the skills workers put to use on this 18th-century plantation, take a specialized tour or even a carriage ride. The 65-acre gardens are breathtaking and feature magnolias, azaleas and camellias throughout the year.
Nathaniel Russell House Museum – The wealthy Southern merchant, Nathaniel Russell, built this house at the turn of the 19th century. This home is famous for its spiraling staircase, landscaped gardens and detailed furnishings. The home has undergone extensive interior and architectural restorations.
Fort Sumter National Monument – In 1861, Fort Sumter was the location for the first shot fired in the Civil War. Go back in time and see the fort where all the action happened. It's a short ferry ride to the fort so make the most of your visit by exploring the stone caverns, Civil War cannons and the informative museum.
Charleston City Market – Established in 1807, this historic market offers a glimpse into the Old South. The market features toys, leather goods, clothes and regional souvenirs. The people that make baskets have been basket weaving for centuries, and this is a must-see treat. The baskets are made using local materials, such as palmetto leaves and sweetgrass. There are also many eateries scattered throughout market street.
The Aiken-Rhett House Museum – A spectacular example of antebellum life, the Aiken-Rhett House Museum was built in the early 1800s. It was later expanded by Governor William Aiken in the 1850s. Most of the home's original style is preserved, and visitors enjoy looking at the bronze chandeliers, antique furnishings and even original wallpaper. The kitchens, slave quarters and stables have all been immaculately preserved.
Drayton Hall – Drayton Hall was built in 1738 and is one of the oldest surviving plantations. The main red-brick house is virtually unchanged and doesn't even feature electricity, air conditioning or heat! There are two walking trails, which follow the marsh and Ashley River and there is an African American Cemetery on the grounds. This home was also a central staging ground for both British and Colonial forces during the American Revolution.
H.L. Hunley Submarine – Built in 1864 for the Confederate Army, this was the world's first successful submarine. In the late 19th century, this historic submarine was lost at sea, but in 1995, it was discovered off Sullivan's Island. It was brought to the surface and restored. This is a must-see for nautical history fans.
During your visit to Charleston, don't forget to take a walking tour. These tours highlight the old mansions and cobblestone streets, as well as the city's history and ghosts. There are many walking tours available, including those that highlight the historic downtown district, as well as tours that explore the city's past pirates and paranormal presence.
Additionally, when you're in Charleston, consider taking a boat tour and getting a better view of the harbor. Whether you sign up for a maritime history tour, a fishing charter or simply a sightseeing excursion to spot some friendly dolphins, local charter services feature a variety of must-see options.
For foodies, there are some essential restaurants that you can't miss. Whether you want to take in a bucket of steamed oysters at Bowens Island Restaurant or delve into some red curry macaroni and cheese at Jack of Cups, this city has something for everyone. We also recommend Wild Olive, which is located on Johns Island and features a variety of classic pasta dishes that incorporate local ingredients. And if you want some classic southern cuisine, try the Workmen's Cafe for its famous fried chicken, lima beans and fluffy cornbread.