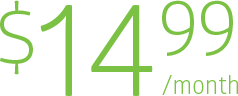 The Hub
The Hub is a standalone home automation hub. It enables communication between home automation end-point devices and the Alarm.com cloud service via a cellular or Ethernet network. A user is able to remotely control functions on the Hub and its associated Alarm.com Interactive Services (including Zwave devices) via a web application or mobile app.
Features
Smart Thermostat*
Smart Door Locks*
Smart Lighting*
Smart Garage Door Opener*
*Equipment not included.
Equipment
$299 per kit
The Hub
Zwave Thermostat
Zwave Plug-in Lamp Module
Managed Whole-Home WiFi*