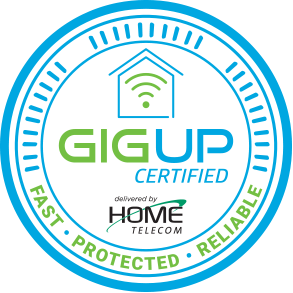 The Fastest and Most Advanced
Fiber Optic Internet Power Available
Unlike some providers' so-called 'advanced fiber networks', ours goes all the way to your home or business. Our fiber is 100% full fiber optic internet. Having a fiber connection enables you to receive the most advanced voice, video, data and security services through one connection.
Whether it's faster internet speeds, more high definition or any number of new applications on the horizon, rest assured you have a connection powerful enough to meet the demands of tomorrow.

Enjoy TV Like Never Before
Homestream TV Video
Home Telecom is revolutionizing the way you watch TV with HomeStream TV, our new app-based streaming TV service available to watch on your Smart TV AND your favorite devices!
All HD Channels, no cable boxes, and amazing features like Restart & Replay will change your TV experience forever!

Leading and Innovative
Vivid Voice
Beginning in 1904 with a network of six telephones, Home Telecom, a true community enterprise, offers world-class telecommunications while hiring, investing and serving locally.
Get all of the calling features you want and expect with unlimited calling to anyone in the domestic U.S. from one of the largest independently owned telecom companies in South Carolina.

At the Touch of a Button
Security & Home Automation
Home Telecom provides peace of mind with the area's best 24-hour Security Monitoring.
Add HomeSmart Home Automation, and you can stay connected and in control of your home whenever you want, wherever you are. Control your security system, receive important alerts and true system status in real-time. Now you can arm and disarm your security system via the internet using your smartphone, tablet or other web-enabled devices.
If you'd rather discuss your options in person, visit one of our convenient locations!
Moncks Corner
579 Stoney Landing Road
Moncks Corner, SC
29461
Cypress Office
2750 Hwy 52
Moncks Corner, SC
29461
Daniel Island
230 Seven Farms Drive
Suite 104
Daniel Island, SC
29492
Nexton Office
1247 Nexton Parkway
Summerville, SC
29486