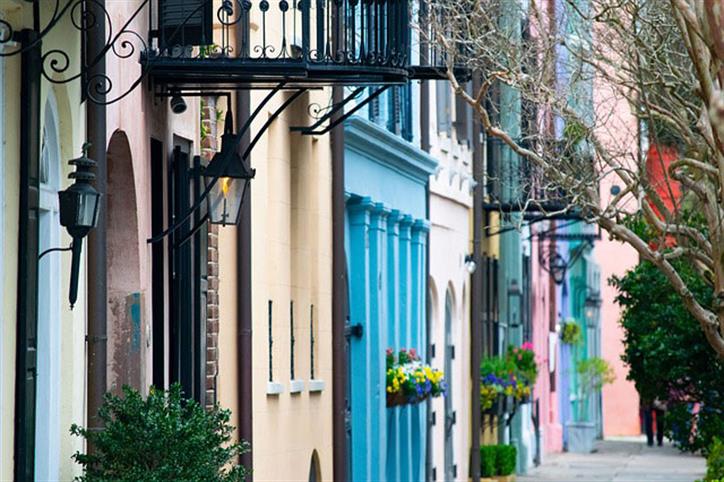 Every fall, some of Charleston's historic homes and gardens open their doors to the public. This Homes, History & Architecture tour is sponsored by the Preservation Society of Charleston. Whether you're looking to tour homes or gardens, to take in a lovely curated garden, photograph stunning sites or participate in history walks and talks, these fall adventures offer something for everyone.
Strolling down Charleston's historic streets, you can take in the unique architecture of the local churches, private residents and charming gardens.
Here is a list of upcoming events from October 3 through November 2, 2019.
October 3
Invention of Wings: The Grimke Sisters of Charleston Walking Tour
10:00am - 12:15pm Price $30 | Member $30
The Private Gardens of Charleston
2:00 pm - 5:00 pm Price $125 | Member $110
October 4
Enduring Traditions: Ironwork of the Holy City Walking Tour
10:00am - 12:15pm Price $30 | Member $30
South of Broad House and Garden Tour
2:00pm - 5:00pm Price $60 | Member $50
Photography Walkabout and Workshop
9:00 am-noon Price $60 | Member $50
October 5
Invention of Wings: The Grimke Sisters of Charleston Walking Tour
10:00am - 12:15pm Price $30 | Member $30
The Private Gardens of Charleston
2:00 pm - 5:00 pm Price $125 | Member $110
The Battery House and Garden Tour
2:00pm - 5:00pm Price $60 | Member $50
October 6
Enduring Traditions: Ironwork of the Holy City Walking Tour
10:00am - 12:15pm Price $30 | Member $30
The Amazing Buildings of Charleston: ABCs of Architecture
10:00am - 12:15pm Price $30 | Member $30
Ansonborough House and Garden Tour
2:00pm - 5:00pm Price $60 | Member $50
October 10
Invention of Wings: The Grimke Sisters of Charleston Walking Tour
10:00am - 12:15pm Price $30 | Member $30
The Private Gardens of Charleston
2:00 pm - 5:00 pm Price $125 | Member $110
October 11
Enduring Traditions: Ironwork of the Holy City Walking Tour
10:00am - 12:15pm Price $30 | Member $30
Broad Street House and Garden Tour
2:00pm - 5:00pm Price $60 | Member $50
Photography Walkabout and Workshop
9:00 am-noon Price $60 | Member $50
October 12
Invention of Wings: The Grimke Sisters of Charleston Walking Tour
10:00am - 12:15pm Price $30 | Member $30
The Amazing Buildings of Charleston: ABCs of Architecture
10:00am - 12:15pm Price $30 | Member $30
Church Street House and Garden Tour
2:00pm - 5:00pm Price $60 | Member $50
October 13
Enduring Traditions: Ironwork of the Holy City Walking Tour
10:00am - 12:15pm Price $30 | Member $30
The Amazing Buildings of Charleston: ABCs of Architecture
10:00am - 12:15pm Price $30 | Member $30
Meeting Street House and Garden Tour
2:00-5:00 pm Price $60 | Member $50
October 17
Invention of Wings: The Grimke Sisters of Charleston Walking Tour
10:00am - 12:15pm Price $30 | Member $30
The Private Gardens of Charleston
2:00 pm - 5:00 pm Price $125 | Member $110
October 18
Enduring Traditions: Ironwork of the Holy City Walking Tour
10:00am - 12:15pm Price $30 | Member $30
King Street House and Garden Tour
2:00pm - 5:00pm Price $60 | Member $50
Photography Walkabout and Workshop
9:00 am - noon Price $60 | Member $50
October 19
Invention of Wings: The Grimke Sisters of Charleston Walking Tour
10:00am - 12:15pm Price $30 | Member $30
The Amazing Buildings of Charleston: ABCs of Architecture
10:00am - 12:15pm Price $30 | Member $30
East Battery House and Garden Tour
2:00pm - 5:00pm Price $60 | Member $50
October 20
Enduring Traditions: Ironwork of the Holy City Walking Tour
10:00am - 12:15pm Price $30 | Member $30
The Amazing Buildings of Charleston: ABCs of Architecture
10:00am - 12:15pm Price $30 | Member $30
Gardens of Historic Charleston
2:00pm - 5:00 pm Price $60 | Member $50
October 21
Garden Walk and Talk
10:00am - 12:15pm Price $30 | Member $30
October 22
The Mystique of Charleston: A History Walk
10:00am - 12:15pm Price $30 | Member $30
October 23
Lady Lore: Fascinating Charleston Women
10:00am - 12:15pm Price $30 | Member $30
October 24
Invention of Wings: The Grimke Sisters of Charleston Walking Tour
10:00am - 12:15pm Price $30 | Member $30
The Private Gardens of Charleston
2:00 pm - 5:00 pm Price $125 | Member $110
October 25
Enduring Traditions: Ironwork of the Holy City Walking Tour
10:00am - 12:15pm Price $30 | Member $30
South Battery House and Garden Tour
2:00 pm-5:00 pm Price $60 | Member $50
Photography Walkabout and Workshop
9:00 am - noon Price $60 | Member $50
October 26
Graveyard Walks, Talks and Tales
10:00am - 12:15pm Price $30 | Member $30
The Amazing Buildings of Charleston: ABCs of Architecture
10:00am - 12:15pm Price $30 | Member $30
Tradd Street House and Garden Tour
2:00pm - 5:00pm Price $60 | Member $50
October 27
Graveyard Walks, Talks and Tales
10:00am - 12:15pm Price $30 | Member $30
The Amazing Buildings of Charleston: ABCs of Architecture
10:00am - 12:15pm Price $30 | Member $30
Haunts and Haints: Spirits Among Us House and Garden Tour
2:00pm - 5:00pm Price $60 | Member $50
October 28
Graveyard Walks, Talks and Tales
10:00am - 12:15pm Price $30 | Member $30
October 29
The Mystique of Charleston: A History Walk
10:00am - 12:15pm Price $30 | Member $30
October 30
Graveyard Walks, Talks, and Tales
10:00am - 12:15pm Price $30 | Member $30
October 31
Graveyard Walks, Talks, and Tales
10:00am - 12:15pm Price $30 | Member $30