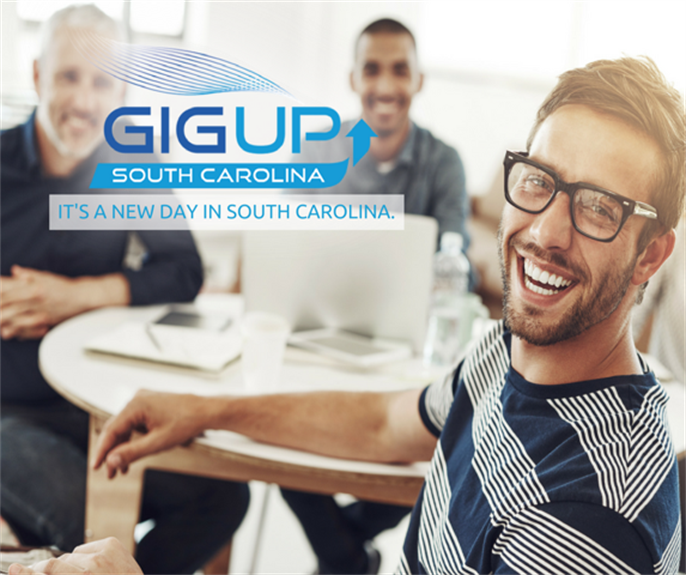 Home Telecom is proud announce with Spirit, their collaborative initiative GigUP South Carolina. Striving to create growth throughout South Carolina, we are helping to advance the state with the latest fiber optic technology, which in turn facilitates faster internet speeds.
GigUP South Carolina will help the area prepare for future expansion, which will help boost local economies and promote job growth. We are helping make South Carolina a desirable place for both businesses and consumers alike.
How We're Rolling Out the Gig
Fiber Optic Cable contains thin flexible fibers of transparent solids or glass to help transmit light signals. The telecommunications signal, or internet speed, travels along these individual strands via reflections. This advanced method allows information to move faster and further than traditional processes.
The costs of fiber cables are less than conventional cables that contain copper wire. These fiber cables are also thinner, which allows a larger group to be bundled together. Consequently, it makes it easier to send and receive internet and phone data. The signal is also clearer, which means that it offers a better overall experience for both businesses and consumers.
As part of Spirit Telecom's 11-member GigUP team, Home Telecom is working to spread the news that the state is covered by over 1 million miles of fiber capable of delivering gigabit internet speeds to businesses and residents of South Carolina.
Gigabit Internet equals 1,000 megabits per second (Mbps). In the United States, the average residential internet connection is less than 10 Mbps. Gigabit Internet is 100 times faster than this, which makes it easy to stream videos, play online games, use cloud backups and transfer large files. A higher transmission speed means there is less time spent buffering and more time spent watching. It provides a higher-quality user experience than previous types of internet download speeds.
What This Means for You
Home Telecom is part of GigUP South Carolina and can provide Gigabit Internet to over 50% of their customers served by their Velocity Fiber. Access to Gigabit Internet will allow you to experience the following benefits:
Faster internet speeds, even for multiple users or devices that are on the same network
Instantly download data
Transfer internet data instantaneously
Send larger files without long wait times
Promoting GigUP South Carolina will make it easier for the state to compete in today's global economy, as well as improve workplace efficiency and communications. Additionally, this technology makes it easier for rapid-response during any disaster or crisis situations.
Spirit Communications and their 11-member owners have constructed more than 1,000,000 miles of fiber optic infrastructure. The goal is to attract more businesses and help boost South Carolina's economy.
Gary Simrill, the Chairman of the Economic Development and Natural Resources Budget in the South Carolina House of Representatives, states: "Delivering gigabit internet and offering throughout the State of South Carolina is quite an accomplishment and a positive impact on continued economic growth. The business community, as well as residents, is dependent on faster speeds and increased bandwidth and Spirit and its owner companies are delivering."
Look for Home Telecom's GigUP logo, and you'll know you're connected to the fastest internet available nationwide.