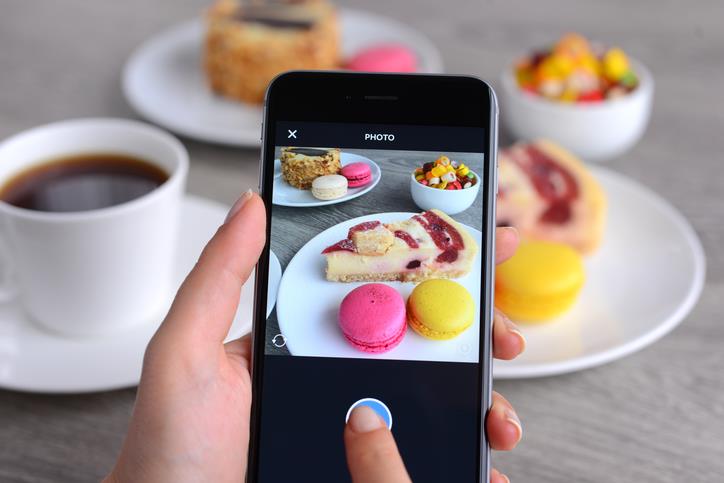 At Home Telecom, we love photo apps! That is why this holiday season our expert team has put together a list of their top 10 favorite photo sharing and editing apps.
Top 5 Photo Sharing Apps
Our top five photo sharing apps were not easy to pick, but after some debate, we finally settled on a list you'll want to take a picture of!
Instagram – This online mobile app is perfect for sharing photos and videos with your social network. Instagram has the bonus of allowing photos to be public or private, which means that you have the added security option of accepting followers. Instagram is similar to Twitter and Facebook in that it offers news feeds of recent photos taken by people you follow. Your profile highlights all of your photos, which makes it easy for friends and family to catch up if they do not log in often. You can easily view your followers and the people you are following. As a bonus, Instagram's app offers some minor editing and filter options. Additionally, videos can only be 15 seconds or less. Instagram is a social networking app that is primarily for sharing photos and videos.
Imgur – Imgur is a social sharing app that highlights the most viral images on the web. These are then sorted by popularity. As a bonus, you can receive emails that highlight the best of Imgur. This app was originally designed to compliment the user experience for Reddit readers, but it has since spread into a technology must-have firestorm. Members can upload images to a private URL to share with friends and family or through a public directory. Posted images feature discussion forums, which allows other Imgur members to leave comments. Users have the ability to give "thumbs up" or "thumbs down" for images.
Flickr – As a social media app, Flickr helps provide online photo management and sharing. Flickr allows people to privately share photos with friends and family. People can also opt to publically share photos and videos. Flickr helps sort photos into albums, making it easy to organize your photos at the click of a button. You can also give other friends and family members the ability to help you organize your photos, in addition to leaving comments about specific images. Members can upgrade to a professional service for a low monthly fee.
Photobucket – This app makes it easy to download, upload, share, find or link photos, graphics and videos. You can host your image library online and then share photos to other social media sites, such as Twitter, Facebook and MySpace.
DeviantArt – This social media app is ideal for art enthusiasts and artists alike. When you sign up for a free membership, you can exhibit artwork or explore more than 340 million original artistic pieces. You can create galleries, develop a fanbase, communicate with artists and even make money selling art.
Snapchat (Honorary Mention) – Snapchat allows people to send both videos and pictures, which are embedded with a self-destruct feature that engages just seconds after images are viewed. It's fun; it's easy and well worth the laughs you will share with your friends. Snapchat also has a messaging feature, which allows you to capture photos or videos, add doodles, filters or captions and then send the snaps to friends.
Top 5 Photo Editing Apps
We think you will be impressed with our photo editing picks!
Adobe Lightroom Mobile – Adobe's Lightroom Mobile app lives up to expectations. It allows you to create the perfect picture using 40 presets, including those that adjust vignettes, clarity and color. This app easily connects with other Adobe apps, making it simple to refine or retouch photos. This program is perfect for both beginners and professionals.
VSCO – This photography app lets you take and upload photos. You can then edit them by adding filters and uploading them so other users can view your creations. You can discover different people and communities within VSCO, following people and friends worldwide.
Google Snapseed – This program is impressive and powerful. It features amazing photo editing software that allows you to edit images directly from your SmartPhone or tablet. This is a direct competitor with Instagram, but it features a wide selection of artistic editing tools that make it very advanced. Underrated, this app has an underground fan base that is rapidly growing. Special effects include Grunge, Drama, Vintage, Frames, Center-focus, Tilt-shift, Glamour Glow, Lens Blur, HDR Scape and Noir.
Adobe Photoshop Express – This program features a Flash base, which means that photos on blogs or other social networking sites are easy to edit directly without consuming downloads. Users can do simple tasks, such as adjusting color, rotating, straightening, cropping, flipping and removing red eye. It also has the added feature of removing pet's green eyes. You can also use artistic touches to create unique looks, as well as finishing frames and borders.
Autodesk Pixlr – This robust program transforms photos into works of art. Features include applying personal touches with borders, overlays and effects. In fact, the app offers more than 200 borders, 340 overlays and 100 effects. You can also take two independent images and blend them together for a unique look.