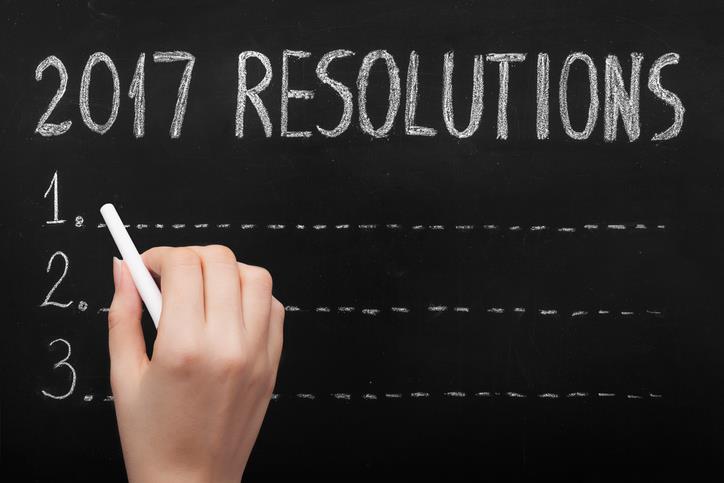 Every New Year people make a list of resolutions about how to improve their lives or wellbeing. This year was no exception. Once the clock struck midnight, many people vowed to make lifestyle changes. However, most people usually wait until January 2nd to embark on fulfilling their resolutions. After all, why take the fun out of the holiday?
What were the most popular New Year's resolutions for 2017? Home Telecom did some research and here is the scoop.
Getting Healthy
By far the most popular resolution, getting healthy is at the top of millions of people's lists. According to information compiled from Google search terms, searches for getting healthy increased 13.77-percent over last year.
The healthy trend is worldwide, as even the United Kingdom reported that British citizens' New Year's resolutions included exercising more, losing weight and eating healthy. These searches show a global trend in people wanting to be healthier and staying fit.
Searches for gym memberships have also increased, which shows that people want to get out and be more involved in getting in shape. Consider taking group fitness classes or working out with a personal trainer for additional motivation and emotional support.
Getting Organized
Getting organized is important, both at home and at work. While the number of searches decreased this year over last year, getting organized is still a popular New Year's resolution for many people.
One of the most popular New Year's resolutions, decluttering your life and making it more organized can help you achieve other goals, such as staying healthy and enjoying life to the fullest. Hundreds of ideas on how to accomplish this can be found online and some creative ideas submitted by other people on Pinterest.
Living Life to the Fullest
Each person defines living life to the fullest in different ways. For some people, this may involve traveling or site-seeing. For others, it may be adrenaline-seeking adventures, such as skydiving, storm chasing, paramotoring, zip lining or even going on a toboggan run.
Other people may be more adventurous in other ways, such as through culinary adventures. Whether you've always wanted to try chicken feet, haggis, tripe, tuna eyeballs or blood sausage, embrace 2017 and make this your year for adventure.
Learning New Hobbies
Another popular resolution is to learn more hobbies. Some people want to expand their horizons and acquire new skills; after all, what else makes a New Year?
Perhaps you have interests in gardening, reading more, learning a language, painting, taking cooking lessons, exploring the benefits of yoga or even learning programming code to embark on a blog venture. Whatever your passion, explore it this year.
Spending Less and Saving More
One of the most tried and true resolutions is spending less and saving more money. People vow to make this happen every year. Whether it's opening a 401(k), an IRA or a savings account, make the first step towards this goal this year.
There are many budgeting apps and software available online to help you manage your money, including helping you forecast your retirement. Start saving today to make a nest egg for your future tomorrow.
Why do New Year's Resolutions fail?
Why do so many people fail at keeping their New Year's resolutions? It's simple. People who don't achieve their goals report feeling a loss of motivation and a lack of commitment. Other people say that not having a set plan or not having enough support made them feel discouraged.
How can you achieve your New Year's resolutions?
You can reach your New Year's resolutions by reflecting on why you made these goals. Did you feel societal pressure? Or did you want to change something about yourself just for your benefit? Understanding the desire for change can help you set long-term goals.
Always set an action plan to help aid you along this journey of self-discovery. Consider barriers that you may face and create plans for change. Consider trying networks or groups to help support and motivate you. Always be willing to take a break from your plans and start again. Just because you face setbacks, doesn't mean you have to give up on your long-term goals.
Home Telecom's New Year's Resolution
Home Telecom's resolution for 2017 is to provide the very best products and services to our customers. We will strive to be the top in our industry, and to make it easy for people to work with us and do business with us throughout 2017 and beyond!