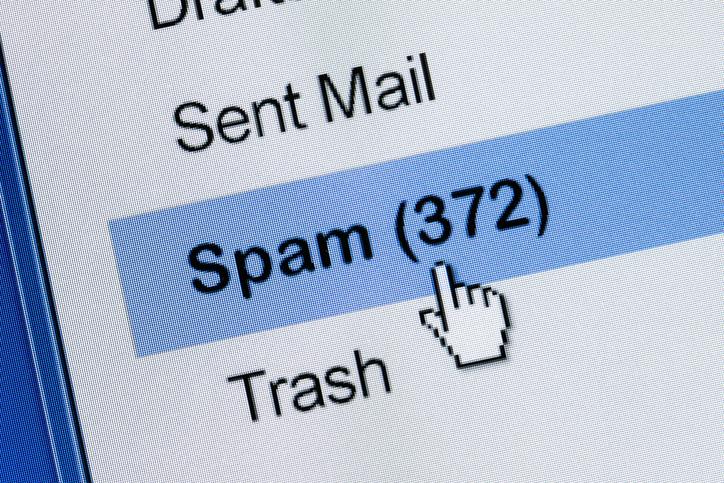 Email spammers are far more sophisticated today than a decade ago. Their methods for tricking people into reading and responding to unsolicited junk messages make it worth the time to be extra cautious.
A computer's health depends on not opening spam emails or clicking on prying links. There are several ways to determine if an email is spam if it accidentally slips through your spam filter.
If Email is in the Spam/Junk Folder
If email is in the spam folder, it's generally there for a good reason. Home Telecom's spam filter tries to categorize questionable emails as spam or junk so that you have minimal risk of opening a harmful email. This doesn't mean that sometimes your friend or a company you shop with won't occasionally be filtered out with the spam. If this happens, you will see the spammed email in your "Daily Digest" email that summarizes the spam you've received. From there, click on My Account, click on the Policies tab, scroll down to where it says Friends, type the email address in the field, and then click the plus (+) sign. To remove the email address, click on the address and then hit the red x. While the spam filter will help block many spam attempts, it still requires you going through emails at a glance or on a case-by-case basis.
Pay Attention to the Email Address
Companies that have legitimate business operations send emails through a server that features the companies' website. However, this isn't always true. For example, a small construction company can send you an email about a quote you requested, and it can be from a major internet service provider. If you didn't request information, you need to be cautious before opening the email. Never respond to something that comes from one of these email addresses when you did not solicit information. If you think an email is from your bank, it is best to log directly into your bank or financial institution's website and not click on any email links.
Review Email Content
If an email has an urgent call to action, saying that a response is required within a certain number of hours, you need to act now, etc., there is a high probability that it is spam. Additionally, spammers do not pay attention to spelling or grammatical errors, and sometimes the messages themselves are not cohesive.
Requests for Personal Information
Reputable institutions will not ask for personal information in an email. Banks, medical facilities and places you have subscriptions to have your personal information on file already, so there is no need for them to request it in an email. No matter how legitimate an email may seem, always delete it if it requests personal information, especially credit card information, social security number, birth date, etc. Personal information is designed only to be entered into secure, encrypted forms. Don't ever give personal information over an email.
Read the Greeting
A genuine email greeting usually addresses someone using their first or last name. Emails that refer to people as "Valued Customer" or a member of a group or company often indicate that it is spam. People that send genuine emails want to get the recipient's attention, which is why they include a direct salutation.
Home Telecom has included a list of top email spam subject trigger words to look for when browsing through your spam messages.
Lose 30 pounds in 2 days!
FBI Warrant Issued For Your Arrest
Earn Points by Telling Us About Yourself
Britney Spears Weds Plaster Wall in Surprise Ceremony
I'm your new Rep!
Discount Cheap Prescription Drugs
Shocking Photo of Christina Aguilera
Time Travelers PLEASE HELP!
Looking for something new and innovative?
Join the Malware Affiliate Program
If you receive emails that have these subject lines, just send them to spam or delete them.