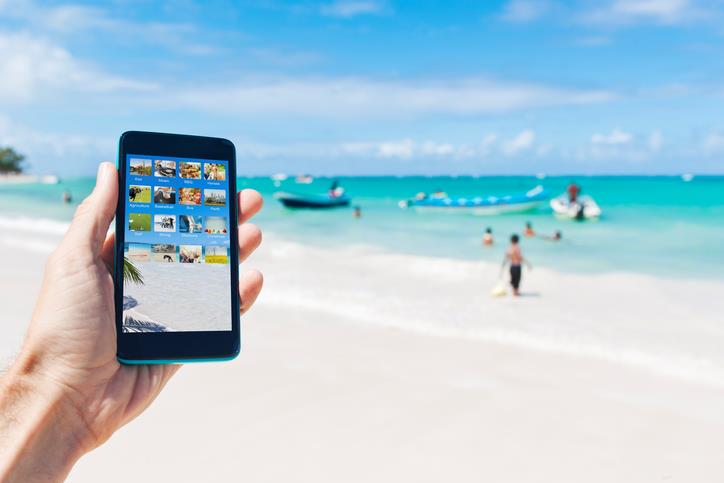 Technology has not only changed our daily routines but also how we travel. There are thousands of travel apps in today's marketplace. Home Telecom understands that you just want a good, relaxing vacation without the hassle of researching apps. That's why we've done the hard part and compiled the list of top vacation apps for you!
Exploring
If you're into exploring what's nearby on vacation, you should definitely download Google Maps and the Yelp app, both of which are free on Android and iOS devices. They will highlight everything that is nearby and give you directions (whether you want driving or walking directions, Google Maps has you covered).
Another great app is FieldTripper, which runs in the background and pops up with notes when you pass places of interest. It's essentially like having a built-in tour guide. If you want to read recommendations from fellow travelers and friends, check out Travelstoke. Both of these apps are free for Android and iOS.
TripSee (free on Android and iOS) is great for organizing itineraries and recommending nearby must-see sites. Sidekix (free on iOS) was specifically designed for wanderers and pedestrians, which makes it much easier to explore a city on foot and provides a variety of interesting scenic walking routes.
If you love to eat, Velocity (free on iOS) gives you a list of the best restaurants in London, Los Angeles, New York and Miami. You can even book last-minute reservations at some of the world's most in-demand restaurants.
For vegans and vegetarians, traveling just got easier thanks to HappyCow ($3.99 on both Android and iOS), which provides a list of restaurants that accommodates dietary restrictions.
REI National Parks (free for Android and iOS) features hiking trails, natural features, directions to nearby parks and much more.
Magnus (free on Android and iOS) is the ideal app for vacationers that want to stop at art museums. This remarkable app will identify hanging artwork, as well as featuring maps of nearby museums, galleries, shows and hours.
Getting Around
Instead of waiting around airports for the long taxi line, get the Uber app (free on Android and iOS) and schedule a pickup when you arrive. As a bonus, you can pay online, so there's no need to rush and get foreign currency or carry cash.
Skedaddle (free Android and iOS) is a money-saving travel app that allows travelers to book when nine other people are going in the same direction, which makes this almost like renting out a private bus, except significantly less expensive.
If you want to travel in luxury, consider exploring JetSmarter (free on iOS), which advertises cheaper ways to rent private jets.
Airport Apps
With myTSA (free on Android and iOS) you can explore security wait times without leaving your house. GateGuru (free Android and iOS) and Fleet (free on iOS) provide information about what to do in each airport terminal to make the most out of your wait.
AirHelp (free on Android and iOS) will assist you if your flight is canceled or delayed. You can also download Service (free on Android and iOS) to help resolve any customer service issues without spending hours on hold.
Communicating
If you're heading to a foreign land, download Duolingo (free on Android and iOS), which will help you learn a new language by teaching you the basics. Google Translate (free on Android and iOS) is a must-have for scanning and translating foreign signs.
Group Traveling
If you're traveling with a group and need to keep track of friends or family, you can download Glympse (free on Android and iOS) to show everyone's locations from their smartphones. If you want to share vacation plans in one place, PlanChat (free on iOS) is your best bet. If you need to share expenses, Venmo (free on Android and iOS) is an excellent app.
On the Go
If you need a guide to a city's public toilets, consider looking into SitorSquat (free on Android and iOS). This app highlights which public restrooms are visit-worthy. If your vacation revolves around being outdoors, Dark Sky ($3.99 on Android and iOS) will give you minute-by-minute updates for expected precipitation fall.