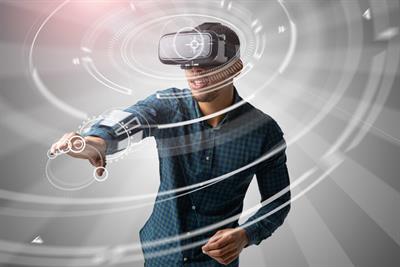 Virtual Reality (VR) has gone mainstream. It's far from an overnight phenomenon but goes back to the 1960s, which introduced a little-known motion-tracking headset. While decades ago, VR inventions were limited to prototypes and research labs, today VR hardware is everywhere.
While VR systems are advancing every year, it doesn't mean you should wait to explore this latest technology. Here are some helpful tips before you dip your toes into the world of purchasing VR equipment.
Google Cardboard
If you just want to barely get your feet wet with VR, then we highly recommend starting with Google Cardboard. This is the beginner's virtual reality experience that doesn't pretend to be dressed up with all the bells and whistles. Additionally, it's inexpensive, and the platform is designed to work with both Android and iOS devices.
The bottom line is that not only is this device cheap, but it's easy to use. Download the Cardboard app, then put your phone in the cardboard viewer, which is decked out with some fancy magnification lenses, watch the easy demo to understand how to use it and then visit Google Play Store's Cardboard section and begin experiencing what it's like to view the world virtually. Most titles in the store are free, and the ones that do cost money are pretty low-priced. As a bonus, most of the viewers are pretty economical too. In fact, in Sweden, they're making viewers out of McDonald's Happy Meal boxes!
The downside of Google Cardboard is that they're not comfortable to wear and it feels like you're looking through strange binoculars as compared to more expensive models that provide immersive experiences. Additionally, the chances are that your phone's screen resolution will be less titillating since it will likely be pixelated.
Samsung Gear VR
While Samsung Gear VR is somewhat similar to Google Cardboard, it does offer a different experience. First, it will drain your phone battery to nothing. Second, the experience is superb.
It does require the purchase of a $99 piece of hardware, but it's pretty comfortable. It comes with straps, which means you don't need to press it against your face, but as a warning, you may get the "ski goggle" effect on your face. It's easier to use this by leaning back and relaxing.
The headset has sensors and input options built in, which allow you to pause and play experiences based on if you're wearing the headset. There's also a convenient touchpad on the side of the device, which allows you to interact with on screen options easily. While it doesn't plug into just any phone – you'll need a Samsung Galaxy, S6, S6 Edge, S6 Edge+, Note 5, S7 or S7 Edge – it's a definite win-win for Samsung phone fans.
We highly recommend checking out Land's End, which is an excellent VR experience, but we warn you that the content does cost money. To download content, you can visit the Oculus Store.
Now, if you simply want to know the best of the best VR sets on the market, we'll highlight those below:
HTC Vive Virtual Reality System – This is the BEST VR gaming headset and offers an easy setup and features intuitive controls. (Amazon $599)

Pros – Easy setup!
Cons – Few games are available yet.

Samsung Gear VR – This system is better for watching videos than gaming. (Amazon $49)

Pros – GREAT visuals!
Cons – Isn't compatible with some of the newer Samsung Smartphones.

Oculus Rift + Touch Virtual Reality System – Affordable but we recommend an updated PC for the ultimate experience. (Amazon $399)

Pros – Comfortable and easy to adjust.
Cons – Installation can be complicated and frustrating.

Google Daydream Viewer – Budget-friendly and offers a simple setup! (Amazon $70)

Pros – Most Smartphones will fit into this VR headset.
Cons – Resolution is lower, and it's not compatible with the iPhone.

Sony PlayStation VR – This model features all the bells and whistles at an affordable price point. (Amazon $275)

Pros – Awesome screen resolution and contrast!
Cons – Multiple wires and video aliasing is an issue for intensive VR games.
So if you're looking to explore the world of VR, we recommend you take a virtual leap and jump in.