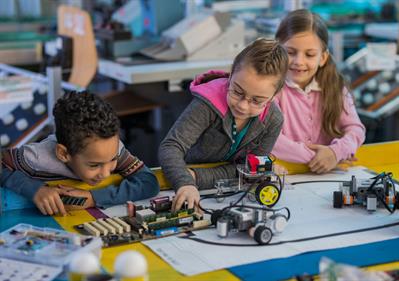 Do you have children that are interested in learning more about technology? If so, the Daniel Island Tech-Savvy Kids Club summer camp may be the perfect opportunity for your youngster or teen to learn more about technology while bonding with their peers.
Here's a quick glimpse into some exciting camps and programs they offer for kids ages 4 to 12 this summer.
Toon Time Designers Camp (July 9-13)– Kids will be taught about digital literacy using drawings, pictures, and technology, learning to create personalized logos, products, and cartoons using their one-of-a-kind digital designs.
Lego Robotics Camp (July 16-20)– Kids will use LEGO elements, software and kits to explore robotics. They will also learn more about simple machines and how they impact our daily lives.
Let's Code (July 23-27) – Campers will explore programming and coding for art, game design, and digital media. By using these skills, they will create their own stories and animations.
Space Camp (July 30-August 3) – Learn more about NASA's Space Launch System and why it is important to humankind's future.
Shark Tank (August 6-10)– Children will learn about Marine biodiversity and a wide variety of sea life that inhabits the world's oceans.
Sign up and view all summer camps here.
Additionally, the Kids Club offers an Afterschool Program that might be worthwhile exploring this summer, so you're ready when school starts.
The Afterschool Program is for one year and runs from the third week of August through the first week of June 2019. They will also take children for early dismissal days and teacher workdays at no extra charge to parents.
A sample of the Afterschool Program schedule includes children learning about science, technology, engineering, art, math, and movement.
If you are interested in learning more about this program so you can sign up early and be prepared for school starting next month, click here.
The Daniel Island Tech-Savvy Kids Club is a preschool and STEAM Learning Center. They focus on teaching children science, technology, engineering, art, and math. As a full-service children's facility, they also offer preschool, mom's morning out, parent's night out, weekend workshops, and even STEAM infused birthday parties.
The classrooms offer a small, intimate group setting, which affords children individualized attention, ensuring that they interact one-on-one with teachers.