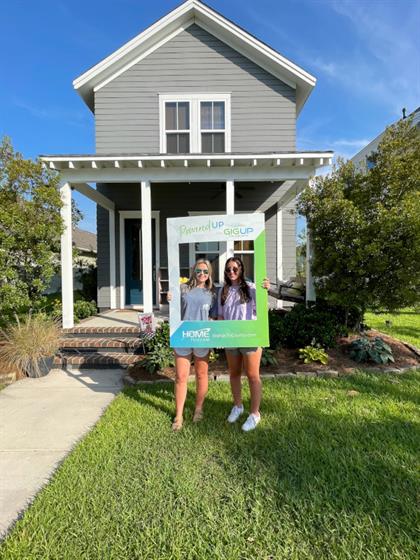 Nexton, located in Summerville, South Carolina, is a hidden gem recently receiving the coveted National Association of Home Builders "Best in America Living" award. Over the last several years, Nexton has become one of Charleston's top-rated communities and favorite places to live.
You may be asking yourself, what makes Nexton special? Nexton is the first gigabit community in South Carolina. The community features an increasing number of workplaces, including IT providers, medical services, architects and more. Couple that with the convenient retailers and restaurants in the area, and you have a convenient location that stands out from other communities. Nexton partnered with Home Telecom to ensure they stay ahead of the curve on the latest technology.
Lightning Fast Internet Speeds in Nexton
Starting in August 2022, Nexton residents will be able to receive lightning-fast 2-gigabit per second internet speeds from Home Telecom. Other affordable options are available to businesses in the Nexton community, such as 5-Gigabit and 8-Gigabit. All public Wi-Fi in the Nexton community will be upgraded to multi-gigabit speeds as well.
The average home has more than 20 connected devices, many of which run simultaneously. What can take up to 14 seconds to download with a 1 Gbps connection can download in one second by doubling the connection speed to 2 Gbps. So not only will Nexton residents have a more robust and faster internet connection, but it will be more consistent for streaming, online gaming and even working from home.
Meet the First 2 Gig Customers in Nexton Summerville, South Carolina
Meet Ellie and Olivia, the first 2-Gig customers in Nexton Summerville, South Carolina! When asked about the Nexton community, Ellie said, "My roommate and I have lived in Nexton for two years, and we love it. The location is so convenient; we love all the walking trails and fun places around Nexton Square. I grew up in Summerville/Moncks Corner, and … Olivia just moved down here after graduating from college. We both attended the University of South Carolina in Columbia. She is a Berkeley County teacher, and I work in marketing."
Ellie also elaborated on how Home Telecom's technology in Nexton has enhanced their lives. "The technology available in Nexton was a consideration for us when we were house hunting. We both live on our cell phones and computers so we knew having access to the fastest internet and strong Wi-Fi that covers every inch of our house would be important. We've had the 1 Gig service ever since we moved in, and we've never had any issues with it. When this opportunity came up to try the new 2-Gig speed, we thought 'Sign us up!' It's really a game changer when you double what is already a very fast internet connection. With our new 2-gig service, I can send large files quickly and have seamless virtual meetings when working from home. We've noticed that we can both stream simultaneously, Facetime, and go Live on Facebook without any buffering. That means all our out-of-town friends and family never miss any of the fun we're having in Nexton!"
Ellie continues, "While making the speed upgrade, we also added MyWiFi Xtreme. Our installer was so friendly and knowledgeable. He explained how this was Wi-Fi 6 technology so our coverage was going to be even better too. He also discussed some of the new awesome features we'd have, including an app that helps manage those features. We were able to set up a guest Wi-Fi network, monitor the devices connected to our network and reset our Wi-Fi password at any time. If you don't have this Wi-Fi or haven't played with the app yet, you don't know what you're missing! We also love our neighborhood and our neighbors!"

Nexton and Home Telecom's Partnership
Home Telecom has offered commercial and business multi-gig speeds for years, but launching our new, affordable residential multi-gig speeds helps to integrate the Nexton business and residential communities fully.
Home Telecom's President and CEO, William Helmly, said this about the partnership: "Everything Home Telecom does in terms of community partnerships has a purpose, and when we partnered with Nexton in 2013, we knew that Nexton was going to be a community that placed a high value on the technology that's available to their residents and businesses. Together, we anticipated being able to streamline communications and meet the ongoing demands for faster internet speeds by future-proofing GigaFi technology." Helmly also said, "With this launch of affordable, multi-gig service in Nexton, we are still just scratching the surface of what we can do, and we are excited about the endless possibilities ahead utilizing powerful Nexton fiber infrastructure."
Do you want to be a 2 Gig Nexton Resident? Click here to learn more!