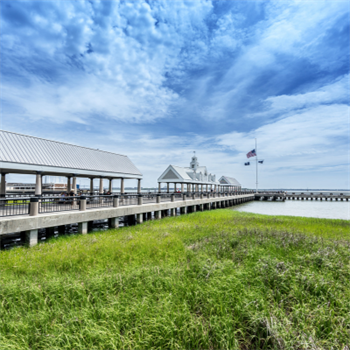 South Carolina is a hidden gem tucked along the southern coast of the United States. Charleston and the surrounding Lowcountry area, including Allendale, Bamberg, Beaufort, Berkeley, Calhoun, Charleston, Colleton, Dorchester, Hampton, Jasper and Orangeburg Counties, offer many attractive benefits and amenities to residents. Learn about the top reasons why more people move to Charleston, SC, and why it's a leading destination for jobs and families.
South Carolina is tucked along the Atlantic Ocean and nestled between North Carolina and Georgia and was the fourth most popular state for people to move and relocate to in 2020 .
Why More People Move to Charleston, SC
We've rounded up the top seven reasons why more people call Charleston and the Lowcountry in South Carolina home.
Among the Best States for Retirement

- Did you know that Charleston and the Lowcountry are excellent for retirees? Not only are gas taxes low, but property taxes are among the lowest in the U.S . Additionally, South Carolina is among the 10 lowest taxed states. The state's highest income tax rate is 7%, and retired people under 65 can legally deduct up to $3,000 from their state income tax bills for retirement income.



Low Unemployment Rates and Job Opportunities

- Charleston and the Lowcountry offers many job opportunities in various industries and boasts low unemployment rates , making it attractive for many newcomers to relocate to this picturesque area. A strong economy is essential to sustaining Charleston, and local counties work hard to achieve this goal.



Low Crime Rates and Family-Oriented Environment

- People who move to Charleston and the Lowcountry continue to be impressed by the low crime rates compared to other areas in the U.S. South Carolina, Charleston and the Lowcountry have one of the lowest crime rates in the nation, making this area attractive for people looking to raise families.



Caters to Outdoor Lifestyles

- Charleston and the surrounding Lowcountry are breathtakingly beautiful. For outdoor lovers, the area has lakes and beaches. Whether you want to take a drive and explore the Blue Ridge Mountains upstate or take a dip in the Atlantic Ocean , the Lowcountry offers scenic outdoor experiences for everyone. Charleston also offers an array of outdoor activities, such as boating, hiking, fishing and enjoying the beach.



World-famous Seafood

- Whether you love shrimp boils, soft shell crabs or Frogmore Stew, the culinary scene in Charleston and the Lowcountry is abuzz with the latest food trends



Maintain Physical and Mental Health

- Living in a warm client makes it easier to stay active year-round. Whether you want to go for a walk every morning or prefer to take in the ocean views waterside, Charleston has abundant sun and spectacular weather to help fight away the blues and help you maintain your overall physical health.



Embraces the Latest Technology

- Worried about losing out on the latest technology if you move to Charleston or the Lowcountry? Home Telecom has a large Fiber network to make sure that you stay connected with friends, family and even work if you work remotely. Having a high-quality Fiber network in place is vital for people that want to relocate to the area, and with Home Telecom, new residents can rest assured they can stay connected. Home Telecom has been serving Charleston and the Lowcountry area for more than 100 years, continually adapting and adopting the latest technologies to serve residents.
If you're considering a move to Charleston, SC or the Lowcountry, be sure to schedule your Home Telecom service installation or transfer today!