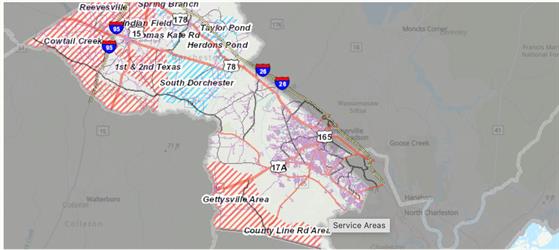 MONCKS CORNER, SC March 4, 2022 — Dorchester County Government is excited to announce a public-private partnership with both Home Telecom and Palmetto Rural Telephone Cooperative (PRTC) that will expand high-speed internet access to the western part of the county over the next three years.
"Our goal is to help close the technology gap for many of our county's rural residents who have historically had extremely limited options for accessing the internet," said Dorchester County Councilwoman Harriet Holman. "We are grateful to Home Telecom and PRTC for their partnership in this project and look forward to providing better access to high-speed internet for those living in the western part of the county."
Expanding access to high-speed internet provides opportunities for business development, job creation, and economic growth while helping to bridge the digital divide for residents.
As recently learned during the COVID-19 pandemic, internet connectivity is essential for students to learn remotely while gaining valuable 21st century technology skills that prepare them for the future.
Those elementary, middle, and high school students in Dorchester School District Two and Dorchester School District Four will now be able to participate in virtual learning and experience interactive educational resources from their homes.
High-speed internet also delivers quality healthcare services by linking patients to their providers which ultimately improves the health of communities. Individuals will now have access to an affordable portfolio of virtual services by healthcare providers including the nationally recognized MUSC Center for Telehealth.
Whether working from home, attending school online, or seeing a healthcare provider virtually, access to high-speed internet offers a myriad of benefits that will improve the community.
This $17.1 million investment is subsidized through matching funds provided by Home Telecom and PRTC along with a maximum grant of $8.5 Million from the American Rescue Plan Act.
This partnership will result in 325 miles of buried fiber to more than 4,100 homes that currently do not have access to adequate high-speed internet service. This allows both vendors to offer a high-quality fiber network that provides extremely fast download and upload speeds of up to 1 Gbps (1024 Mbps).
The project will be implemented in five phases over the next three years and will include the following communities:
Cowtail
Reevesville / Shady Grove
First and Second Texas
Geddisville
Spring Branch
Thomas Kate Road
Indian Field
Rosinville
South Dorchester
Herdons Pond
Taylor Pond
"PRTC is very excited to partner with Dorchester County and Home Telecom to extend fiber optic broadband services to the rural residents of Dorchester County," said Jason Dandridge, PRTC's CEO. "As a cooperative and local company, we have strong affinity for serving rural communities that are often left behind by larger providers. This joint effort will be a difference maker for those in need of quality broadband services."
"Fiber is widely acknowledged to be a future-proof technology, " said William Helmly, Home Telecom's CEO. "By providing access to this technology to some of the most rural areas in our communities, we have the opportunity to improve the quality of life for not only current residents, but for future residents.
"Access to the fastest internet speeds available will allow for remote learning, seamless streaming of entertainment, virtual doctor visits, video chatting with friends and family, and even working from home," Helmly continued. "To say that we are thrilled to be working with Dorchester County on this project would be an understatement."
For more information about the service areas that will be covered, please visit the Dorchester County Broadband Project website.
If your address is not included within the Dorchester County Rural Broadband Project areas and you do not have high-speed internet, please visit the South Carolina Digital Drive website to take the South Carolina Citizen Survey for Broadband Internet.
This information will assist the South Carolina Office of Regulatory Staff in identifying those areas without high-speed, fiber-based internet.
Residents are also able to access this survey at the computer centers at the Dorchester County St. George – Jennie J. McMahan Library (506 N. Parler Avenue St. George, SC 29477) or the Summerville – George H. Seago, Jr. Library (76 Old Trolley Road Summerville, SC 29485), as well as the Dorchester County QuickJobs Training Center (5164 E. Jim Bilton Boulevard, St. George, SC 29477).