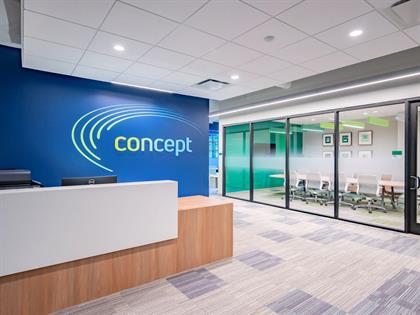 Coworking spaces are rapidly gaining in popularity across the country. Once unheard of, these affordable solutions are the perfect escape for people that traditionally work from home or use the local coffee shop as their nine-to-five home base.
What is a coworking space?
Coworking spaces are shared workspaces that offer a small suite and private meeting rooms. These offices usually have shared amenities such as kitchens, coffee, receptionists, mail handling services, telephone service, wi-fi, shredding service and more.
Who uses coworking spaces?
Traditionally, coworking spaces are excellent for freelancers, as it gives them a sense of community that they wouldn't experience working from home or the local coffee shop. However, coworking spaces are also gaining popularity among start-up companies, as they don't have the high costs and extensive lease commitments as traditional office leases. Coworking spaces also allow teams to interact with others in the same space.
What are the benefits of a coworking space?
Harvard Business Review conducted an extensive study about why people thrive in coworking spaces in today's day and age. Additionally, the benefits of people using coworking spaces include:
Meaningful Work - Freelancers who use coworking spaces see their work as more meaningful since they can bring their whole selves to the office and work.
Job Control - Coworking spaces offer access 24/7, which gives people the ability to set their own schedule and work in a quiet space for as many or as few hours as needed.
Community - The main benefit of a coworking space is that it brings a sense of community to those who would miss out on face-to-face interaction in a traditional office setting.
Coworking Spaces in South Carolina
Home Telecom is proud to partner with Bridge Commercial to create ultra-modern, shared office space to suit various business needs. In addition, these office suites feature Home Telecom's deeply discounted and reliable VOIP phone systems with private lines and GigiFi Internet services.
Whether you're in the market for an office to accommodate 20 employees or single office space, Bridge Commercial's Concept coworking space in Summerville, South Carolina, provides a variety of amenities so you can focus on building your business instead of maintaining an office space. Essential amenities include free wi-fi, personal desk phones, receptionist services, phone rooms, breakrooms, conference rooms, dining area and more. The flexible leases range from month-to-month to six, 12 or 24-month terms, and all spaces are fully furnished and offer all amenities.
If you'd like to learn more about Concept coworking space, contact Bridge Commercial today.