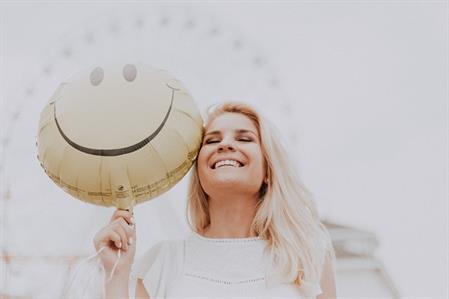 October is full of fun celebrations, including World Smile Day® and You Matter to Me Day, which seems especially appropriate to celebrate this year. Many people are depressed and worried about the pandemic, politics and natural disasters. These days allow everyone to pause for a moment, smile, and bring joy into people's lives.
World Smile Day®
World Smile Day® has a specific theme: "Do an act of kindness. Help one person smile!" As people globally embrace this happiness theme, celebrations of all sizes can help change someone's day. Whether it's incorporating kind acts in businesses, at school, across the community or at home with family, anyone can participate in this happy holiday.
The official World Smile Day® page has downloads for certificates, cards and posters to celebrate with your children or across your community. If you know someone that has gone above and beyond to help someone out and make them smile, recognize their acts by sharing a certificate or card with them.
This year, World Smile Day® s specifically focusing on spreading the message across social media. Take a selfie holding a sign that says "World Smile Day®" on October 4. Post the picture to your Facebook and Instagram pages for your friends to see, but remember to tag #worldsmileday, so it appears on our timeline. It also helps celebrate this holiday worldwide. You can even take pictures leading up to the big day so more people will know about it and can celebrate.
You Matter to Me Day
There's never been a more important time to celebrate "You Matter to Me Day" than this year. As more friends and family have been forced to be apart due to quarantine and travel restrictions, everyone must know they're special, and they matter to someone. Held annually on October 7, this holiday started with a tragedy. A father, son and friend departed our world in an instant. Did he know he mattered to so many people? Sometimes we take for granted the extraordinary things in life, and we don't express our gratitude. You Matter to Me Day allows us to tell people that we care.
Humankind is dependent on interpersonal relationships, talking, sharing and listening. This global event encourages people to reach out face to face (with appropriate social distancing), via video, voice calls, email, text or social media posts (#youmattertomeday) to let the loved ones in their life know they care. Whether you're reaching out to a teacher, a boss, a coworker, a best friend, a child or a grandparent, everyone needs to know now more than ever that they matter to someone.