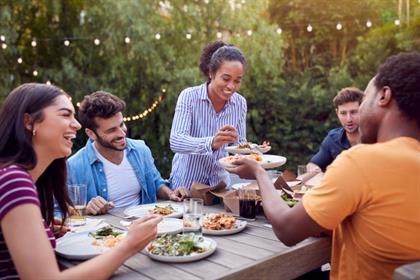 Labor Day weekend is right around the corner, and if you're anything like us, you want to see summer out with a big outdoor bang. So we've rounded up our favorite (and budget-friendly!) recipes for Labor Day.
Top Recipes for Labor Day
The origins of Labor Day go back to the late nineteenth century. Then, labor activists pushed for a federally recognized holiday to highlight America's many contributions. Today Labor Day is a celebratory event focusing on boating, outdoor fun, BBQs and cookouts, and we've rounded up fresh, seasonal recipes for Labor Day to help you celebrate.
Appetizer Recipes for Labor Day
Fruit Dip — Traditionally made with cream cheese, heavy cream and marshmallow fluff, this delightful fruit yogurt dip has been reinvented. Also, it features pumpkin pie spice to bridge the gap between fresh summer fruit and fall's upcoming harvests. Pair this with South Carolina's in-season produce to help stay on budget. Enjoy this delightful recipe with fresh apples and peaches.
Cucumber Salad — If you love in-season cucumbers, try this easy cucumber salad, and it's sure to be among your hit recipes for Labor Day!
Marinated Tomatoes — There's nothing like tomatoes to help bring summer to a close. Enjoy the bounty of fresh tomatoes by highlighting them in this easy, healthy tomato salad recipe.
Main Dish Recipes for Labor Day
Spiced Chicken and Grape Skewers — Let's face it, groceries are expensive! So when you need to feed a group, but want to stretch out your main dish protein, try making skewers. This unique dish tops our recipes for Labor Day and will also help take advantage of South Carolina's grape harvesting season.
Homemade Black Bean Veggie Burgers — If you're looking for something healthy and flavorful that lets you stretch your budget further, try these delicious veggie-style burgers.
Dessert Recipes for Labor Day
Five-Minute Blueberry Pie — We can't round out our recipes for Labor Day without two terrific desserts. This blueberry pie happens only to take five minutes to whip up too. Allow enough for the pie to chill so you have a chilled dessert to finish your gathering.
Ice Cream S'mores — While this might not technically be healthy, you can eliminate the marshmallow fluff and buy a lower-calorie, less sugar vanilla ice cream. But let's face it, nothing helps take the edge off South Carolina heat like a cold, creamy ice cream sandwich.