We may be full of holiday cheer this season, but we should take a moment also to remember some necessary holiday safety tips to keep our season cheerful and bright.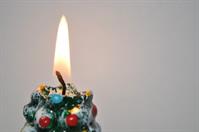 HomeSmart Home Automation & Security - Thieves are always looking for an opportune time to break in or steal packages, but this is especially true during the holiday season. So at the top of our holiday safety tips list is adding HomeSmart Technology to your house this year and experience the gift that keeps giving home security and peace of mind year-round. Here are the many benefits:

FREE Smart Doorbell Camera
Prevent Break-Ins and Package Theft
Unauthorized User Picture Snapshot
Glass Break Detection
Water Leak and Freeze Notification
Control door locks, thermostats, lights, appliances and even your garage door with HomeSmart Add-Ons

Inspect Electrical Decorations - You're probably dusting off your ornaments and taking them out from storage. Still, it's vital to assess any electrical decorations annually to make sure there are no loose or bare wires, damaged sockets, loose connections or anything that may start a fire.
Avoid Overloading Electrical Outlets - One of the most common causes of holiday fires are overloaded electrical outlets. Place only one high-wattage item or appliance into each outlet to avoid overloading.
Incandescent Light Warning - Never connect more than three strands/strings or incandescent lights, as it can not only blow a fuse but can cause a house fire.
Water Trees Daily - To prevent fresh Christmas trees from drying out and becoming a fire hazard, remember to water them daily.
Battery-Operated Candles - Forgo real candles since they contribute to more than 50-percent of home decoration fires in favor of battery-operated candles this season.
Safe Distance for Combustibles - Anything that is combustible should remain at least three feet from any heat sources, which is especially true for fireplace decorations.
Protect Cords - Never pinch cords with furniture or force them into small spaces, as windows, doors, under rugs or near heat sources. Also, avoid attaching cords with staples or nails.
Cooking Tips - Never leave food attended. Don't start roasting your turkey and then decide it's a good time to go outside or run errands. Always attend to whatever you are cooking by staying close-by and in the same room, if possible.
Turn Off Decorations - Before going to bed or leaving the house, turn off, unplug or extinguish any decorations. Studies show that half of holiday fire deaths occur while people are sleeping.