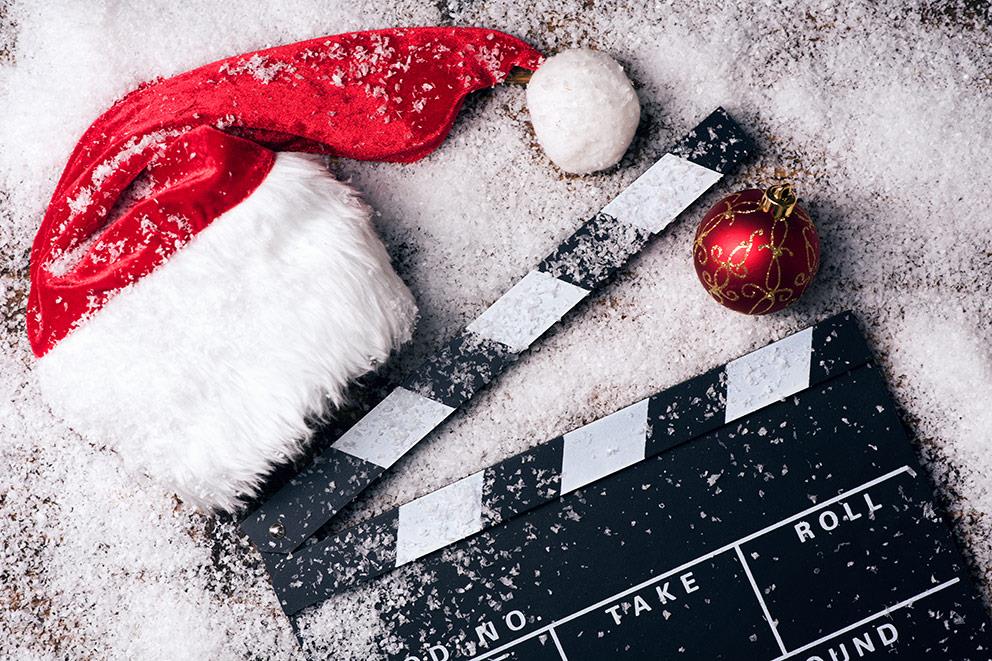 Countdown to Hallmark Christmas Movie Schedule 2023
The countdown to Hallmark Christmas movie schedules is finally here! If you're a fan of romantic holiday movies, mark your calendars and tune into the Hallmark Channel for fan favorites and new movies this 2023 season.
Everything Christmas
Friday, November 10, 8/7c
Lori Jo's (Cindy Busby) intense love for the Christmas holiday propels her to take a road trip with her roommate Tori (Katherine Barrell) to Yuletide Springs, where they celebrate Christmas year-round to honor her late grandmother. On their trip, they meet Carl (Corey Sevier) and Jason (Matt Wells), stopping at more Christmas attractions in small towns. However, a series of unfortunate events dampers their plans, and they'll need a little Christmas magic to spruce it up and get them back on the right path.
Christmas Island
Saturday, November 11, 8/7c
Kate (Rachel Skarsten) is flying her first private flight to Switzerland and Christmas Island when a snowstorm requires the plane to divert. Kate meets an air traffic controller (Andrew Waker), and they must team up together so she can secure her dream job – becoming the family's private pilot.
A Heidelberg Holiday
Sunday, November 12, 8/7c
Heidi Heidelberg (Ginna Claire Mason) is given the prestigious opportunity to sell her handmade glass ornaments at the Heidelberg Christmas Market in Germany. While in Germany, she meets Lukas (Frédéric Brossier), a local, who helps her reconnect with her heritage.
Navigating Christmas
Friday, November 17, 8/7c
Melanie (Chelsea Hobbs) is recently divorced. Melanie and her son Jason visit a remote island for the Christmas holidays, only to run a working lighthouse where she meets the cute owner (Stephan Huszar).
A Merry Scottish Christmas
Saturday, November 18, 8/7c
Estranged siblings Lindsay (Lacey Chabert) and Brad (Scott Wolf) travel for Christmas to Scotland to reunite with their mother; however, a big family secret is revealed during their visit.
Holiday Hotline
Sunday, November 19, 8/7c
Abby (Emily Tennant) leaves London only to connect with an anonymous caller while she works at a cooking hotline. The caller (Niall Matter) is a single dad who, unknowingly to Abby, she has already become interested in in her real life.
Catch Me If You Claus
Thursday, November 23, 8/7c
Avery (Italia Ricci) is an aspiring news anchor getting her big break on a Christmas morning newscast. However, when she catches an intruder in her home (Luke Macfarlane) who claims to be Santa's son, her night of adventure ends in a police pursuit, and she may not make her newscast debut after all.
Letters to Santa
Friday, November 24, 6/5c
Siblings receive a magic pen on Christmas from Santa that grants wishes. They request that their separated parents (Katie Leclerc and Rafael de la Fuente) reunite.
Holiday Road
Friday, November 24, 8/7c
Inspired by actual events when severe weather conditions leave a travel writer (Sara Canning), a tech entrepreneur (Warren Christie), a senior (Travor Lerner), a mother (Enid-Raye Adams) and her son (Kiefer O'Reilly), a couple traveling from Hong Kong (Ryan Mah and Sharon Crandall), an enigmatic woman (Brittany Willacy) and a social media influencer (Princess Davis) stranded at the airport over the holidays, they all agree to rent a van and take a road trip to Denver. Together, they navigate a series of misadventures and form a bond that changes the trajectories of their lives.
Christmas in Notting Hill
Saturday, November 25, 6/5c
Soccer star (William Moseley) comes home to Notting Hill for the holidays. While he's always been too busy for love, he may change his mind after meeting Georgia (Sarah Ramos), an American visiting who has no idea who he is or that he's famous.
Saturday, November 25, 8/7c
Emily (Lacey Chabert) and Jared (Wes Brown) are excited to celebrate the holidays together as a couple. The neighborhood – Evergreen Lane – has a unique, festive holiday spirit and Emily is ready to work with Jared, Ned (Stephen Tobolowsky), Pamela (Melissa Peterman) and Mary Louise (Ellen Travolta) to make the neighbor's celebrations the best yet. Soon-to-be-neighbors move in, and suddenly, the competition is heating up!
Our Christmas Mural
Sunday, November 26, 6/5c
Olivia (Alex Paxton-Beesley) returns home for Christmas. Unbeknownst to her, her mom enters her into a mural contest. She wins and partners with a teacher (Dan Jeannotte) to create the ultimate Christmas masterpiece.
Sunday, November 26, 8/7c
Lucy Hardgrove (Bethany Joy Lenz) is hired to write the script for the classic "His Merry Wife!" movie, originally filmed in 1947 at the picturesque, historic Biltmore House. The head of the studio doesn't like the new ending Lucy wrote, as it strays from the original's conclusion, so they send her to the Biltmore Estate for both inspiration and research. While there, she discovers the ability to travel into the past to the set of the original 1947 classic with the help of a magical hourglass. While on set, she becomes close to the original film's star (Kristoffer Polaha); however, her appearance is responsible for a chain of events that jeopardizes the original production. Before Lucy returns to the present, she must make things right, or it threatens to alter the future.
My Norwegian Holiday
Friday, December 1, 8/7c
JJ (Rhiannon Fish) is grieving the loss of her grandmother and needs inspiration for her dissertation. She meets Henrik (David Elsendoorn), a Norwegian from Bergen, and discovers she has a troll figure from his hometown. She explores her grandmother's ties and the troll's history and agrees to accompany Henrik to Norway. While embarking on this holiday excursion, JJ uncovers the troll's origins and finds her path to love, family and healing.
A Not So Royal Christmas
Saturday, December 2, 8/7c
Charlotte (Brooke D'Orsay) is a tabloid journalist who tries to get an interview with a reclusive count. The royal family has their groundskeeper (Will Kemp) pose as the Count to hide that the real Count fled years ago.
Christmas with a Kiss
Sunday, December 3, 8/7c
A woman (Mishael Morgan) returns home. She helps with her family's Christmas Carnival, and an unexpected romance ignites while a photojournalist (Ronnie Rowe Jr.) orchestrates a surprise reunion.
Magic in Mistletoe
Friday, December 8, 8/7c
Harrington (Paul Campbell) is a famous author, but commercial success leaves him a bitter recluse from the world. He agrees to return home to attend an annual Christmas festival that celebrates his books, where he is accompanied by April (Lyndie Greenwood), a publicist for the publishing house he works with. See if April can unlock Harrington's closed-off heart and help him rediscover the Christmas spirit.
Christmas on Cherry Lane
Saturday, December 9, 8/7c
The movie follows a couple (John Brotherton and Erin Cahill) that is preparing to welcome their first child, a couple (Jonathan Bennett and Vincent Rodriguez III), and an empty-nester (Catherine Bell) and her fiance (James Denton). All couples can expand their family on Christmas Eve and navigate the turning points they face.
Round and Round
Sunday, December 10, 8/7c
Rachel (Vic Michaelis) is stuck. She keeps reliving the night of her parents' Hanukkah party. Her grandma tries to set her up with Zach (Bryan Greenberg). Can Zach help Rachel make it to tomorrow?
The Secret Gift of Christmas
Friday, December 15, 8/7c
Bonnie (Meghan Ory) is a personal shopper helping widowed client Patrick (Christopher Russell) shop and reconnect with his daughter. Bonnie is determined to help Patrick and his young daughter get everything on their Christmas wishlist.
Sealed with a List
Saturday, December 16, 8/7c
Carley (Katie Findlay) is determined to check off her list of abandoned New Year's resolutions from last year. Her coworker Wyatt (Evan Roderick) helps her find love and the confidence to chase her dreams.
Friends & Family Christmas
Sunday, December 17, 8/7c
Daniella (Humberly Gonzalez) moves to New York to pursue her dream of an art career and stays in town for the holidays with her artist friends. Amelia (Ali Liebert) is an entertainment lawyer focusing on her work after her engagement was called off. Danielle and Amelia are set up by their parents, and to appease them for the holidays, they pretend they are dating. However, they build a deep connection after spending time with each other.
HomeStream TV and the Hallmark Christmas Movie Schedule
Don't miss a minute of Hallmark's Countdown to Christmas and the Hallmark Christmas movie schedule with Home Telecom's HomeStream TV! Sign up for our Essential package and get the Hallmark Channel today. If you're on the go this holiday season, you can record the movies on your Cloud DVR or even watch them while traveling with HomeTV2Go. And don't forget to download the Hallmark Movie Checklist App and the Hallmark Movie Guide.