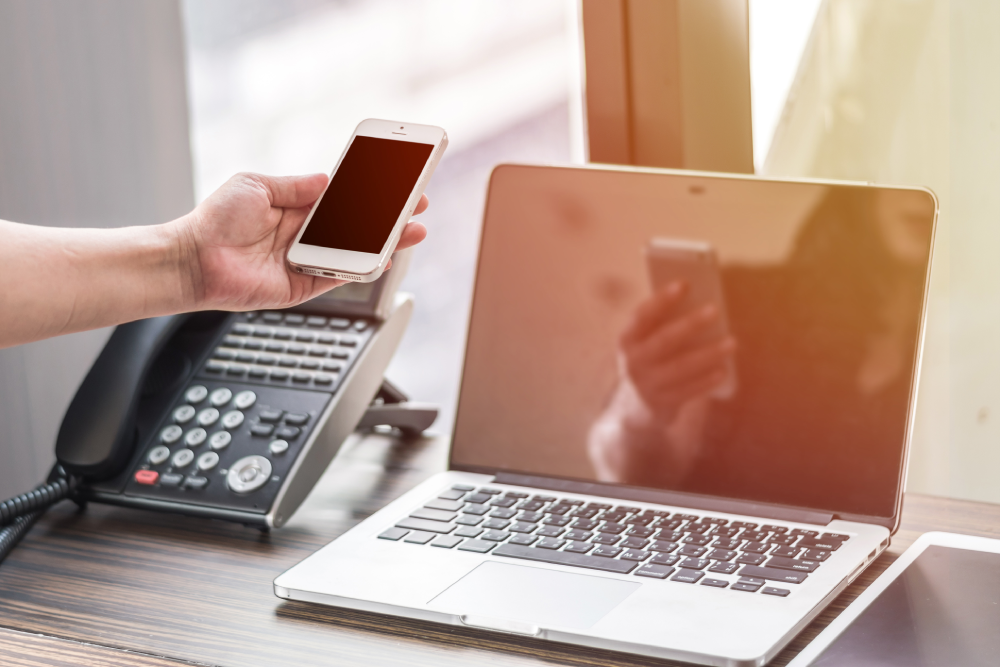 Accomplished businesses know that communicating and connecting with customers is the key to success. It's also vital that your employees efficiently collaborate to create a strong and unified team. We understand how essential it is for employees to stay in touch with each other and customers, so we offer VoIP business phone service solutions with Home Telecom-hosted business VoIP.
VoIP Business Phone Service Solutions for All Size Companies
Whether you're a large corporation or a small business, Home Telecom-hosted business VoIP offers advanced technology, scalability and a connection that helps keep you in front of your customers.
Delivering Cloud-Based Business Solutions
Home Telecom understands how challenging today's economy can be for some businesses, so we focus on keeping your upfront investment to a minimum, reducing the total cost of ownership compared to premises-based systems.
We deliver the best-in-class cloud-based business solutions that include all the latest features to help you efficiently operate and grow your company. Cloud-based VoIP business phone service features are excellent solutions for in-office settings, hybrid employees or those working from home full-time.
Reliability and Dependability Are Key to VoIP Business Phone Service Solutions
Home Telecom delivers reliable service, and our trained customer service team is dedicated to having your business up and running with business VoIP services, including VoIP business phone service solutions, as soon as possible. With our customizable business solutions, your employees will have the flexibility to collaborate, all while staying in touch with customers.
Business VoIP MaX UC Mobile App
Home Telecom's VoIP business phone service solutions include the latest technology, which features the
MaX UC Mobile App
. As a result, you and your employees no longer have to worry about missing calls while you're in meetings, working from home, traveling or even momentarily away from your desk. That's because the MaX UC Mobile App is always with you on your smartphone.
Here are some additional features for the MaX UC Mobile App:
Meetings with up to 200 participants, including screen share and recording options
Chat on any device with other employees, and all messages will be synced across devices so you can access conversations anytime, anywhere
One-click uplift of calls and chats to a meeting for ultimate collaboration sessions
Voicemail controls with alerts, transcriptions and visual voicemail
Take calls or a meeting on either mobile or laptops and switch devices mid-call
We also offer more advanced features, such as
CommPortal
, a call management portal that allows you to set up and adjust any VoIP business phone service features as your needs change. For example, you can set up options such as call forwarding, call routing instructions, etc. In the portal, you can view missed calls, listen to voicemail messages, manage contacts, make calls, start meetings and manage webinars.
The
MaX UC Mobile App
works on most Android and iOS devices and lets users receive and make audio calls, video calls, IM chats, listen to voicemails, review visual faxes, transfer calls and so much more. If your employees primarily work from a Desktop, we have a solution with our
MaX UC Desktop App
.
Home Telecom's VoIP Business Phone Service Commitment
If a service disruption should occur, rest assured that Home Telecom has you covered! We can sense a disturbance and route your calls to other locations or devices automatically, so your customers will never experience a disruption.
Home Telecom is dedicated to providing businesses with local 24/7 customer service and support to ensure your VoIP business phone service is always up and running so you can focus on other management and client-facing tasks.
Don't wait! Move your business into the future today with Home Telecom's business VoIP services and experience the benefits of local, fast and reliable service. Contact us today for a
FREE Business VoIP quote
.