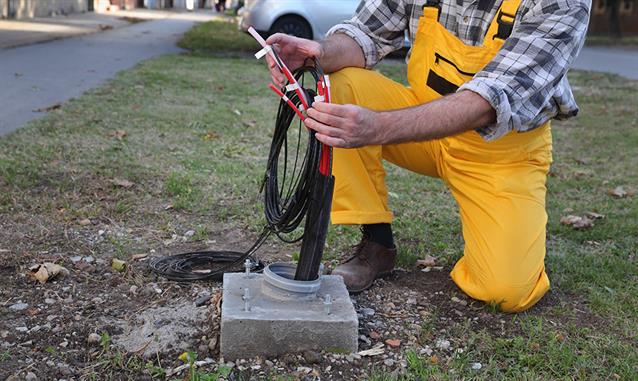 You have probably heard a little about internet with fiber optic or Fiber internet, but what is it, and how can it benefit you and your family, especially in today's work-from-home age?
The Vast Advantages of Internet with Fiber Optic
There are many reasons you should look into using Fiber or internet with fiber optic if it is available in your area.
Fast - Fiber is faster than both DSL and cable, and not by a little, but by a lot.
Symmetrical - Fiber allows for symmetrical download and upload speeds, making for seamless streaming, video conferencing and gaming. Additionally, VPNs and file uploads perform better on symmetrical networks.
Sustainable - Fiber is a robust network that is designed to satisfy user demand over its life. In fact, Fiber has a capacity 500 times higher than other types of technologies. Fiber is designed to help anticipate future needs, allowing services to be more efficient and affordable in the future. Fiber is not only durable but is scalable, easy to update and costs less to maintain.
Reliable - Fiber is the most reliable form of internet technology and has less interference or deterioration when faced with climate or distance conditions.
Economic Development - Areas with Fiber can help attract top talent with community economic development, making an area more desirable for relocation.
The average family of four that works and learns from home can't thrive on 25 Mbps internet speeds. That's why the future of the internet is fiber.
How Internet with Fiber Optic Impacts Our Daily Lives
Internet with fiber optic has come to influence and affect American's daily lives. So we've put together a shortlist of how Fiber impacts us.
Teleworking - Amidst the COVID-19 pandemic, video conferencing and work-from-home have become the new normal for millions of Americans. Virtual private networks (VPNs) offer the security necessary to telework. Fiber provides the needed capacity for businesses to transact business, meaning that regular telework is possible with Fiber technology.
Telehealth - Telemedicine now plays a critical role in our lives, allowing people to schedule appointments with their doctors, specialists or the hospital online without the need for extended travel and sitting in waiting rooms. Without Fiber internet, video conferencing with medical professionals wouldn't be possible.
Productivity - Did you know that households with the minimum high-speed internet connection (25 Mbps / 3 Mbps) suffer an average of 90 hours in lost productivity compared to those with higher speeds (261 Mbps / 47 Mbps)?
Fiber Increases Home Values
Did you know that a Fiber home connection can increase a home's value by an astounding three percent? Yes, that's true! As a result, broadband access properties, particularly Fiber and internet with fiber optic, are more desirable and marketable in both slow and hot real estate markets.
A study conducted by RVA Consumer Studies in 2018 found the following features are essential to potential buyers when looking at homes.
Laundry Room - 91%
High-Speed Internet and Fiber Internet - 89%
Great Room - 84%
Energy Efficient Windows - 81%
Two to Three Car Garage - 79%
Bathroom Linen Closet - 74%
Front Porch - 69%
Central Island in Kitchen - 69%
Programmable Thermostat - 64%
Is Internet with Fiber Optic Available in My Area?
Home Telecom continues to rapidly expand their fiber footprint throughout Dorchester, Berkeley and Charleston counties bringing lightning fast internet speeds and so much more to area businesses and residents. To see if Fiber is available to you, visit GigUPTriCounty.com.