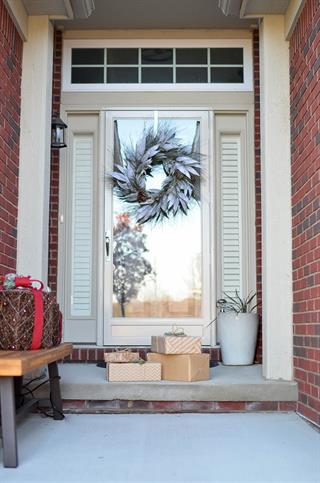 'Tis the season to give and receive gifts, which means delivery companies are working overtime to deliver the abundance of packages associated with the convenience of online shopping. However, this also means that thieves are lurking and the anxiety and hassle associated with tracking down missing packages negate the convenience of Prime delivery. So how can you prevent packages from getting stolen?
Act Now and Prevent Packages From Getting Stolen
December 4 is National Package Protection day and here are some valuable tips to help make sure your Christmas is merry and bright, and not Scrooged by package thieves.
Install Security Cameras - Security cameras can not only notify you when a package is delivered, but they can also alert you to people lurking around your home and porch.
Know Delivery People - Get to know your local delivery drivers so you can let them know where you prefer packages to be delivered. Additionally, knowing your drivers can also pay off because if they feel like something is amiss at your home or notice strange vehicles cruising your neighborhoods, they can opt to leave you an attempted delivery notice instead of delivering your package into the hands of thieves.
Package Lockers - Another excellent option for large cities is package lockers. These self-service Amazon lockers have more than 1,800 locations nationwide, allowing you to pick up your package safely.
Mailbox Upgrade - Unattended packages garnish the attention of thieves. Instead of leaving things out in the open, opt for a secure locking mailbox. For UPS or FedEx deliveries, a larger box that accommodates small parcels is a great option to avoid unwanted mayhem.
Meet Your Neighbors - Getting your entire neighborhood or at least your neighbors on board with fighting mail theft can also help out. Just keep an eye out for anything strange or people lurking around homes can help thwart criminal activity.
Smart Doorbell - Opt for a camera, such as the Skybell, which alerts you on your Smartphone or other connected devices when someone is around your home's front porch. Additionally, it offers on-demand monitoring with full-color night vision, which means it's always on and provides an easy installation.
In-Person Pickup - If you want to make sure that your packages are delivered, you can request that a signature upon receipt is required or that your package will be held at the post office or a designated local location.
Safety and protection are vital to prevent packages from getting stolen, so you don't become a victim of stolen parcels - or even important mail - being stolen.