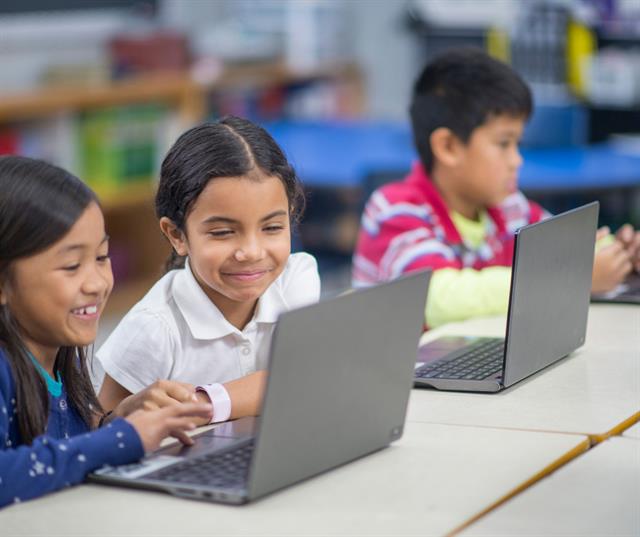 Long ago, parents would make sure their kids had essential school supplies -- spiral notebooks, binders and #2 pencils. But in today's modern-day and age, Fiber internet is a crucial building block in children's educational futures. Let's explore why fiber optic internet is better.
Why Fiber Optic Internet is Better at Helping Children Learn
Fiber internet allows students to download homework assignments quickly, upload papers, connect with their classmates, peers and teachers, research projects globally and learn more about what is going on in the world around them.
Having access to Fiber internet impacts children's education in countless ways. Home Telecom has rounded up the top five ways why fiber optic internet is better at benefitting today's school-age youth.
1. Media-Rich Digital Learning Materials
You've probably heard that a picture is worth a thousand words. When children can tune in online and experience their lessons and have supplemented interactive elements, including audio and video, their visual and auditory senses receive dual stimulation, which helps engage them and inspire them to want to learn more. Back in the days, children had written textbooks. Today's youth gets to learn through various mediums that help them form more of a complete all-around picture. Without Fiber, media-rich learning tools would be difficult to view and frustrating to stream.
2. Promoting Collaboration and Teamwork
It's rare for companies to want someone who only works as an individual and not as a group player. Building teamwork and group-thinking skills are essential in today's world. The best ideas are often part of a collaborative effort. If kids are learning at home, whether it's homeschooling or as part of children remaining home due to the pandemic. Kids need to easily communicate with their peers and teachers, whether they're on or off-campus. Long gone are the days of making appointments to speak to teachers or trying to meet up with their peers for group projects in person. Today's learning environments are online, and thanks to Fiber internet, kids can exchange information at lightning-fast speeds. Simply stated: this is why fiber optic internet is better for education and helps to bring kids together.
3. Getting Help With Homework and Assignments
Long ago, when it came to doing book reports or researching papers, kids had to be taken to the library to access books to complete their assignments. Fiber internet allows most data to be instantly accessed, allowing children to have access to information so they can complete their assignments in a fraction of the time.
4. Reducing Paper, Textbooks and Supply Costs
Textbooks are costly to produce and even harder to update. Digital books are less expensive and easier to edit, which makes them more cost-effective for school districts. By providing students with tablets and laptops, schools can save money on hard copy textbooks. These devices rely on having fast Fiber services to download data and content quickly. Additionally, when students can complete their assignments online, it also reduces wasted paper, saving parents money in the long run.
5. Participate in a Variety of Global and National Events
There are a lot of world events that happen that aren't local. Want students to tour an art museum, but it's across the country? Wish your music students could hear The Tabernacle Choir without traveling to Utah? High-speed Fiber obliterates geographical boundaries, allowing students to participate in virtual field trips without having to travel.
Home Telecom firmly believes that Fiber internet services are a solid commitment to our children's education and future. As part of our efforts to expand our Fiber services and "GigUp TriCounty", we are actively tracking where we should bring Fiber next! If you need Fiber internet speed, simply go to GigUpTriCounty.com and submit your Fiber Interest form!