DSL High Speed Internet
Enjoy the internet at high speed! With several packages available, you can choose the speed that fits your family's needs. Save even more with a bundle!
Internet Speed
Internet Only
(per month)
Internet Rate When Bundled
With Phone*
(per month)
*Phone service of $35/month is in addition to the rates listed for "Internet Rate When Bundled w/Phone". Prices shown are residential rates. All services/speeds are not available in all areas and are contingent on distance from field units.
FEATURES
Quick, easy setup
Always on, always connected
8 email accounts
All residential plans also include:
Dynamic IP address
24/7 technical support
Trend Micro Internet Security
Requirements for DSL Service:
NIC or Ethernet Card installed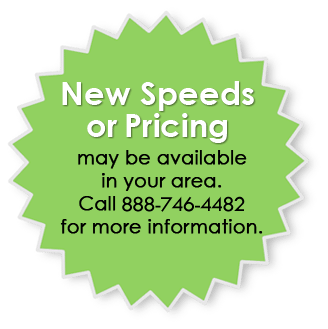 With Home Telecom's High Speed Internet service, you get:
Unlimited Access: There are no hourly restrictions or bandwidth caps on your internet usage. With Home Telecom, you receive unlimited service for one flat fee.
Email Addresses: You get eight email addresses with your residential account. Additional addresses are available for a monthly charge of only $3.00 each.
Internet Security: Free Trend Micro Internet Security Software. Available to all High Speed Internet subscribers (a $89.95/year value).

What Speed Do You Need?
FAQ
Why is telephone service required to receive a lower DSL internet price?
Traditional DSL is a technology that has always required a telephone line to function. Part of the fee for your telephone line goes toward the line (or pair) that you are utilizing. For this reason, we are able to offer the DSL internet packages for cheaper when telephone service is paired with it.
Why is a stand-alone DSL internet package $20 more than bundled DSL internet pricing?
Regulation was recently changed to allow certain telecoms to offer DSL without a fully functioning telephone line. This is referred to as "Naked DSL". Naked DSL (or Stand-alone DSL) still requires the line (or pair) but since the line is not a completely functioning Telephone and Data line, companies are allowed to charge less for this line. Therefore, instead of paying for an additional Telephone line you do not need, you only need to pay an extra $20 for the additional pair needed to make DSL function.
Installation charges apply. All services/speeds not available in all areas. Listed speeds are "up to" speeds and are not guaranteed. There are many factors that may cause actual speeds to vary that are outside of our control such as equipment used and external network conditions.
With Basic MyWiFi, an installation fee applies. The first 4 wireless devices are included in the installation fee; additional devices can be networked for a one-time fee of $9.95 per device. Devices must have wireless capabilities and meet minimum system and security requirements. Must be a Home Telecom high speed internet subscriber.