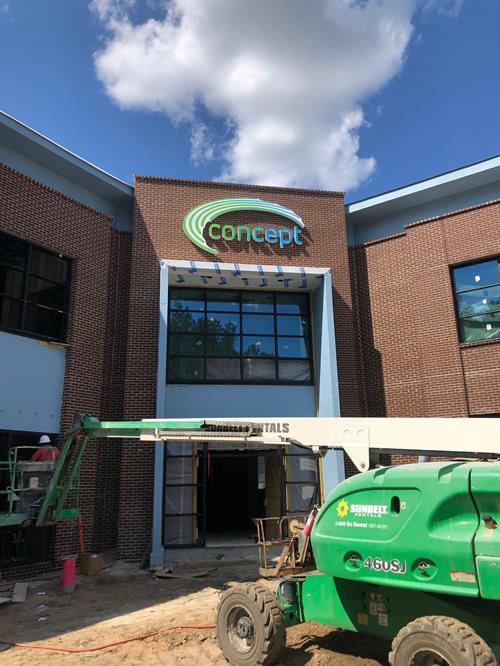 Home Telecom Is Looking Ahead to a Brighter Future!
Yes, the COVID-19 pandemic may be slowing our building progress down a little, but the wonderful construction crews are weathering this pandemic with an optimistic outlook. We have the newest images of the new Home Telecom Technology and Retail Center at Nexton – and so far – we are still aiming to open late this summer!
We'd like to share the first pictures taken from inside the new facility where our stunning Summerville customer service center will anchor a variety of retail tenants and small business office spaces, all within a flourishing residential, technological, and retail development at Nexton!
Although you can't quite make it out yet, the big green wall that is pictured will be a video wall with multiple screens displaying announcements and promotions of Home Telecom's most innovative services and projects, local TV news, and unified content to keep you entertained, inspired, and informed.
Floor to ceiling windows offer a bright, welcoming atmosphere both inside and from the parkway. Later this Autumn, Home Telecom will be introducing a cutting-edge space in collaborative working environments for entrepreneurs and small start-up businesses when they open Concept on the second floor.
Concept will invite start-up technology businesses and inventors who have been working from their home garage, remotely from internet cafes, or from a corner in the library, out into the open with affordable flex space, access to advanced technology, and customized office services.
All around us on the ground floor, you will find over 5,000 square-feet of retail and office space available. This space is perfect for retail tenants and restauranteurs. If you are a small business owner, you will find convenient and affordable office space with built-in multi-gigabit wired internet and WiFi.
Depending on the local status of the COVID-19 pandemic late summer, Home Telecom will be offering walking tours of the available space, or if necessary, virtual tours to give you a feel of the space available and an overview of the amenities. When this medical crisis passes, you can kick-start your business venture in one of the Lowcountry's fastest growing multi-use developments.
The new Home Telecom Technology and Retail Center at Nexton is still coming because nothing – not even a pandemic - can stop us when we have the future in our sights.