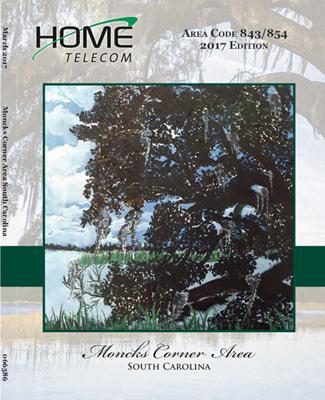 Moncks Corner, S.C. – February 14, 2017 – Home Telecom is proud to announce that the Official 2017 edition of the Moncks Corner Directory is now available.
Numerous talented Berkeley County School students, ranging from Elementary to High School, competed this year for the first place cover display in the third annual 2017 Home Telecom Directory Art Challenge. The judges concluded that Hanahan High School Student Madeline Lemmon's "Sea Tree" would win first place overall and the highly sought after cover feature. Madeline's artwork features a tranquil vision well known to many Lowcountry natives. Not only will her art will appear on the HOME Telecom 2017 Directory Cover, but also a $1,000 prize will be awarded to Hanahan High School's Art Department. Second and third runners-up, Kyle Koon from Berkeley Middle School and Mimi Ayers from Howe Hall AIMS, also won $1,000 to benefit their Art Departments.
Additionally, Home Telecom selected ten other Berkeley County School students as runners-up to receive cash prizes for their school's Art Department, totaling over $3,000. This is the third year the company has opened up the contest to emerging, young student artists. "It is a great pleasure to see how many gifted young people are interested in participating in our third annual Art Challenge. This challenge has grown to become a great community building opportunity in which we are delighted to be a part," says Dewey Ford, Marketing Communications Coordinator at Home Telecom. The total amount awarded to contest winners reached an amount of over $5,000.
Home Telecom would like to extend a warm thank you to all of the students who participated in this contest. Each art teachers' participation and support is greatly appreciated, as it played a huge role in making the Directory Cover Art Challenge such an outstanding triumph for the third year in a row.
About Home Telecom
Home Telecom is an integrated communications provider located in Moncks Corner, SC providing telephone, high speed Internet, video, and security services to residents and businesses in Berkeley, Dorchester and Charleston counties of South Carolina. They utilize a variety of state of the art technologies, most notably FTTP technology, making them a leader in providing the fastest broadband internet services in the state.