With Home Telecom's "HomeTV2Go" you can watch whatever you want, wherever you want, whenever you want! As a Home Telecom Video customer, you can watch your favorite programs or movies on your tablet, smartphone, or laptop. You can watch from the comfort of your own home or while you're out and about. All you need is an internet connection!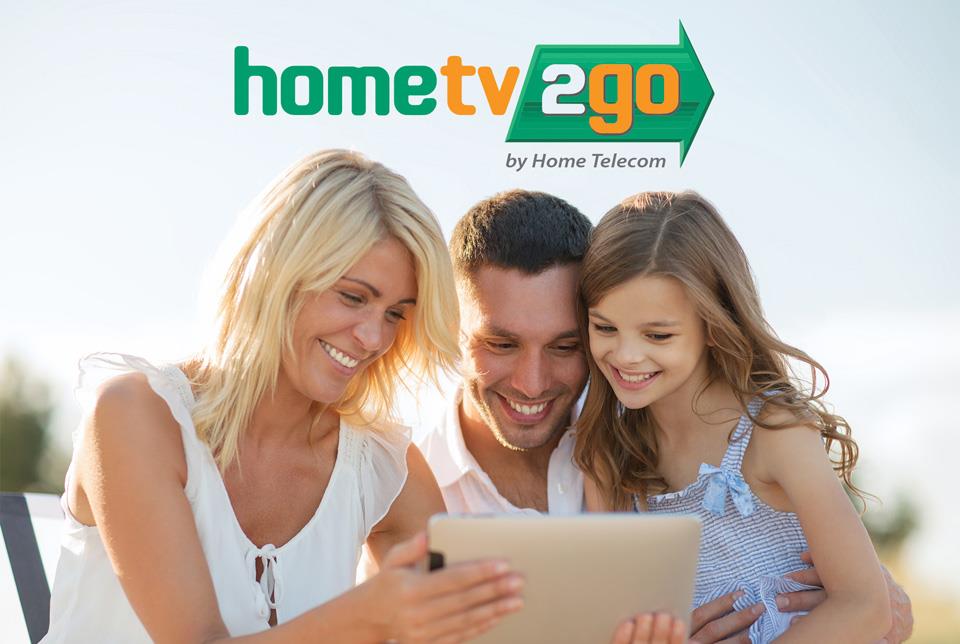 If you haven't registered for HomeTV2Go yet, signing up is simple. Just visit HomeSC.com/residential, and click on the "Register now" link beneath the "HomeTV2Go" logo. From there, click on the "Don't have an account? Register" link. You'll then be asked to enter your video network number, billing zip code, and a CAPTCHA. You can locate the network number and zip code on your billing statement. Once you have entered that information correctly, you will be asked to enter an email address, username, and password. You can find more detailed instructions on the registration process at https://www.homesc.com/HomeTV2Go-step-by-step-instructions.
Once you have successfully registered, you can log in and choose from a huge variety of programs and movies to watch directly from the HomeTV2Go website, but signing up for HomeTV2Go also makes you eligible to view programming on network apps like HBO GO, WatchESPN, and the ABC app (with a valid subscription to those channels). Some apps, like HBO GO for example, require you to enter your HomeTV2Go login information as well as create separate profile information for the app itself in order to gain access to the app content. These network apps are not to be confused with streaming apps like Netflix and Hulu that require an entirely separate subscription to their services, completely independent from your Home Telecom video subscription.
Having trouble getting registered? If you receive an error message advising you to enter a valid postal code and account number combination, be sure that you are using the seven digit video network number located on your bill. Do not include the area code or dashes in the network number. Also, check that the zip code being entered is the zip code of the address where your service is installed. If your bill is sent somewhere other than the service address, you will need to use the zip code for the service address, not the billing address. Also, it is important to verify that you are entering the CAPTCHA correctly. If the CAPTCHA has been entered incorrectly, that will be indicated by an error message stating "ReCAPTCHA verification failed". If you receive the error message "The maximum number of users has already been registered for this account," then your account has already been created, and you will need to log in with your username and password.
Having trouble logging in? Have you forgotten your username and/or password? Don't worry; just use the "Forgot Password?" and "Forgot User Identity?" links on the login screen. If you are receiving the message "There was a problem authenticating. Please try again later." when attempting to log in, you are most likely entering an incorrect username and/or password. When retrieving your username, you will need to enter the 7 digit video network number and zip code that was used in the registration process. When retrieving your password be sure to enter the email address that was used to register for HomeTV2Go when prompted for an email address. You may need to check your Spam folder if you don't receive the email in your inbox.
Using a network app? Most networks require you to sign up for access to the viewing content provided in their applications. They require this information as a means of verifying that you subscribe to their service. You will often be asked to "activate" the device from which you are viewing, even if you've previously activated the device. Certain applications only ask for login information for some of their content, while other content can't be accessed at all without logging in. Activating the device (i.e. Samsung Smart TV) usually consists of visiting the network's website, entering your HomeTV2Go login information, and entering an activation code into the new device that is provided to you by the network. Most network apps request reactivation of the device periodically.
If you're experiencing issues other than those listed above, you may want to verify that your internet service is functioning properly and/or power cycle your device(s) if necessary. You may even want to uninstall and reinstall certain applications if they continue to give you problems. As always, if you need additional assistance, don't hesitate to contact us for support. Here at Home Telecom we're always available and eager to help!