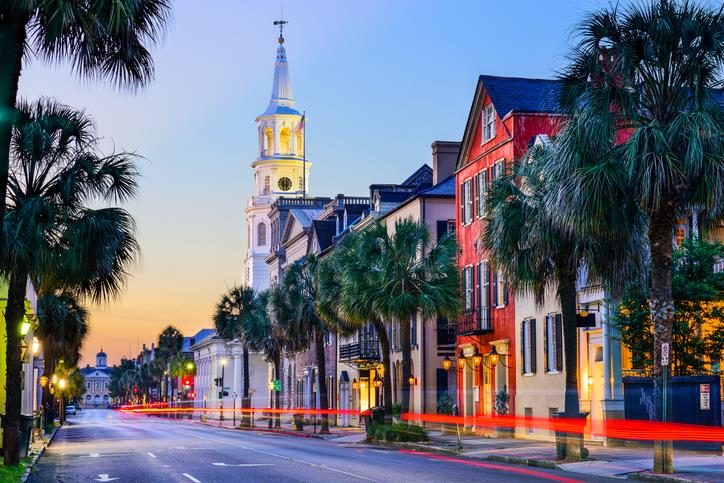 Whether you're new to Charleston or have lived here your whole life, Home Telecom has put together an easy reference list of upcoming summer events in and near the area.
Blues & BBQ Harbor Cruise – Enjoy experiencing Charleston on the water with the Blues & BBQ Harbor Cruise. Relax to blues music by Shrimp City Slim and enjoy a delicious dinner with Lowcountry BBQ buffet. Check dates as this show runs throughout the summer.
Sunset at Fort Sumter – Enjoy a waterside view of this architectural gem that received a "Top City" award by Conde Naste Traveler. Combine this spectacular historical tour with sunset, which features period-dressed Civil War historians. Relax and enjoy the views of the harbor, while enjoying southern BBQ cuisine. Advance reservations are recommended. Check dates as this event runs throughout the summer.
Charleston Farmers' Market – Enjoy the area's local produce. Every Saturday, Marion Square transforms into a delightful farmers' market. Enjoy 100+ vendors, including growers, farmers, food concessions, crafters, artisans, live music, community groups and fun activities. This event runs every Saturday from April 8th to November 25, 2017. There is also a fantastic Moncks Corner Farmer's Market from 3pm - 7pm every Thursday at the Moncks Corner Recreational Complex.
Friday Night Boogie Series – Mount Pleasant Pier's Friday is held May 12th, June 9th and July 14th at 7:00pm. DJ Jim Bowers will be playing beach music classics, oldies and line dancing hits. Adults, age 21 and older, can boogie down while enjoying views from the end of the 1250-foot-long pier located next to Memorial Waterfront Park.
Shaggin' on the Cooper – Watch local bands perform at the end of the Mount Pleasant Pier May 13th, June 10th, July 15th, August 12th and September 9th. The dance floor will be open to all ages!
Movies Under the Stars - Enjoy a free family movie under the stars on the big projector screen at the Moncks Corner Recreation Complex. Movies begin at dark, start times will vary. "Sing" will be featured on May 19th.
Moonlight Mixers – All ages can mingle at this summertime event that features dancing on the Folly Beach Pier. Events are June 16th, July 7th, August 18th and September 15th from 7pm to 11pm.
4th of July Blast at Patriots Point – Featuring a professional fireworks display, beach music band and shore-side party, visitors can purchase VIP tickets for $100. The tickets include a barbecue meal from TOP SHELF Catering, a full-service bar, chairs and tables.
2nd Sunday on King Street – Enjoy Sunday afternoons socializing and shopping on King Street. Experience new product launches, great food and more. Events are May 14th, June 11th, July 9th, August 13th and September 10th.
Charleston Margarita Festival – Experience friendly competition among the top 25 best margaritas from Charleston's hottest restaurants and bars. Sample margaritas, enjoy live music, eat delicious food and relax at downtown's Brittlebank Park on July 14th.
Jason Isbell and The 400 Unit – Jason Isbell, two-time Grammy winner, has announced his tour dates with his band, The 400 Unit. The event will be held on July 23rd at the North Charleston Coliseum & Performing Arts Center.
Solar Eclipse Viewing Events on August 21st:

2017 Eclipse with The Carolina Girl – Offering premium views from Charleston Harbor of the Solar Eclipse, The Carolina Girl will offer a three-hour cruise that departs from Ripley Light Marina. Ten percent of proceeds will be donated to "Darkness to Light: to End Child Sexual Abuse." The event is held 1:00pm to 4:00pm.
Eclipse Baseball Game – The Charleston RiverDogs will play at Joseph P. Riley Park and you can join us and watch a full solar eclipse! The event will feature special guests from NASA and much more.
Go Dark Charleston: Solar Eclipse – Experience a spectacular celestial event while Charleston goes dark from 2:38 pm to 2:39 pm.
Solar Eclipse Saltwater Ecotours – Sign up for a guided sea kayak tour or island expedition and add the tides to the mix when the sun, moon and earth intermingle for the most anticipated solar eclipse in years.
Solar Eclipse Viewing Party – This family-friendly event includes astronomy related activities, eclipse live streams, local food, drinks, entertainment and a science-based kids zone. Gates open at 11:00am and the eclipse occurs in the 2:00pm hour.