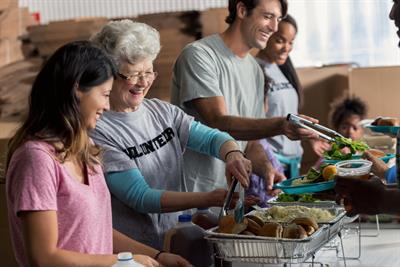 Giving back to the community, friends and family is the essential component that makes up the festive, spirited Thanksgiving Day holiday. It's about being thankful for what you have and giving back to those that are less fortunate. In the spirit of Thanksgiving, we encourage you to share the wealth by supporting these local soup kitchens and homeless shelters.
If you want to donate canned goods and food to help those who need it most, consider giving these items. If you want to donate to a specific group, it is best to call in advance and ask what items they need.
Canned soups
Canned meals (chili, etc.)
Canned vegetables
Canned fruit
Canned meats (tuna, etc.)
Peanut butter
Pasta
Pasta Sauce
Rice
Canned or dry beans
Canned tomatoes
Cereal or oatmeal
Diapers
Baby formula
Baby cereal
Jar baby food
Macaroni and cheese
Soups
Crackers
Fruit Cups
Pudding Cups
Juices
Granola Bars
Jelly
Thank you for opening your heart and your pantry this Thanksgiving. We wish everyone to have a warm, filling and grateful Thanksgiving holiday!