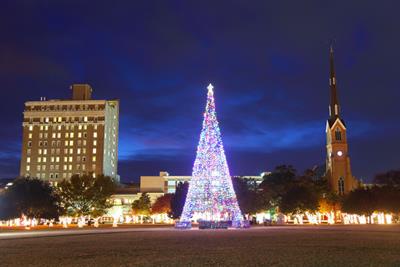 The city of Charleston is alive with the sounds of holiday music. Home Telecom wants you and your family to have the best holiday season, which means hitting the town and experiencing a wide assortment of events and attractions. Here are our top five must-see sites and experiences in Charleston.
Holiday Festival of Lights (871 Riverland Drive) – Running from November 10 to January 1 at James Island County Park, this journey will wind you through three miles that highlight more than 700 magical light displays. This light extravaganza is one of the "10 Best Holiday Light Shows in America," which means you won't want to miss it this holiday season. The festival opens at 5:30 PM daily, and admission is $20 per vehicle (1 to 15 guests).
The Sound of Charleston Holiday Concerts (150 Meeting Street) – These festive music concerts are on December 1, 8, 14, 22, 26 and 30 at the Circular Congregation Church. Get in the spirit and groove by listening to these soulful Christmas hymns. Tickets are $16 to $28 and children under 12 are free.
Wine Under the Oaks (1235 Long Point Road) – Join foodies and winos alike for this delightfully delicious evening at the Boone Hall Plantation from 1 to 5 PM on December 3. Admission includes food and wine pairing samples, bubbles from Biltmore Estate, desserts, wine and cooking demonstrations and live performances. Tickets must be purchased in advance and are $52 each.
Holiday Themed Plays and Musicals – Several theaters around the area will be featuring a variety of holiday-themed productions.

"Holiday Road" (200 Meeting Street) – November 21 to December 31 at 34 West Theater Co.
"The Kris Kross: A Merry Madcap Mystery" (164 Church Street) – Thanksgiving through New Year's at Black Fedora Comedy Mystery Theatre
"A Christmas Carol" (135 Church Street) – November 29 to December 20 at the Dock Street Theatre
"A Christmas Story" (133 S. Main Street) – December 1 to 17 at Flowertown Players
"Junie B in Jingle Bells Batman Smells!" (135 Church Street) – December 9 and 16 at the Dock Street Theatre

Holiday Parades – 'Tis the season for parade celebrations! Check out these local parades:

Moncks Corner Christmas Parade is at 6:00 PM December 2 along Main Street. This year will be more of a parade of lights so be sure you don't miss it!
City of Charleston parade is at 2:00 PM December 3 along Broad, King and Calhoun Streets.
Summerville Christmas parade runs through historic downtown at 2:00 PM on December 10.
The North Charleston Christmas parade and festival is 3 to 8 PM on December 2 around Park Circle.
The Town of Mount Pleasant features more than 100 floats parading down Coleman Boulevard, which ends with a tree lighting and fireworks at 5:30 PM on December 10.