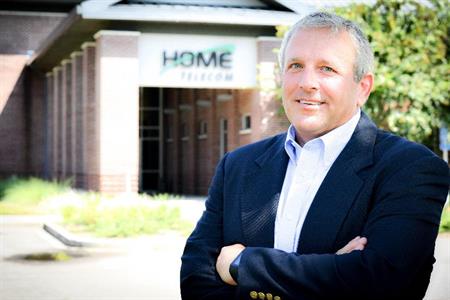 Moncks Corner, SC — December 5, 2017 — Home Telecom announced today that its Board of Directors has appointed William "Will" S. Helmly as President and Chief Executive Officer effective November 16, 2017. Previous CEO, Robert L. Helmly Sr., will continue to serve on the Home Telecom Board as Vice-Chairman. Prior to being named as President and CEO, Will Helmly has been leading Home Telecom as President and Chief Operating Officer.
"Will is an innovative leader and has enabled Home Telecom to prosper by staying abreast of important growth opportunities since taking over as President and COO in 2004," said Home Telecom Board Chairman Bryant Barnes. "As growth in the Tri-County region continues to explode, now is the perfect time for Will to take over as CEO to ensure Home Telecom continues to thrive along with the region."
Helmly joined Home Telecom in 1992 as Vice President of Engineering and was quickly promoted to Executive Vice President before being named President and COO in 2004. He has led the company to become one of the first telecoms in the nation to successfully manage a Fiber-To-The-Premises (FTTP) system with its purchase of Daniel Island Media and the first to offer gigabit internet in the state of South Carolina with its 2013 partnership with Nexton.
Outside of Home Telecom, Helmly serves on various regional boards - Board Chair of the Charleston Regional Development Alliance (CRDA) and a Board Member of the Charleston Metro Chamber of Commerce. Helmly has a passion for education and serves as Trustee of Trident Technical College Foundation, Board Member of Tri-County Cradle to Career, Berkeley County Foundation for Education, and Board Member of STEM Premier. Helmly is a 1986 graduate of the University of South Carolina with a Bachelor of Science degree in Electrical Engineering. He and his wife, Alice, live in Moncks Corner and enjoy traveling and outdoor activities.
About Home Telecom
Home Telecom – founded in 1904 and headquartered in Moncks Corner – is one of the largest, independently owned telecom companies in South Carolina. With an employee base of 200 local telecom professionals, Home Telecom provides voice, broadband, video and security services to over 27,500 residents and businesses. An investment of over 60,000 fiber miles throughout South Carolina's Lowcountry makes them a leader in providing the fastest broadband internet services available in the Charleston region.
Media Contact:
Gina Shuler, Marketing Director
843-761-9178
Gina.Shuler@hometelco.com