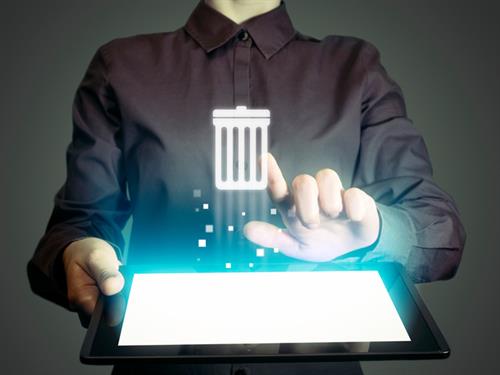 Observe National Clean Out Your Computer Day on February 12 by setting aside some time to do some much needed TLC on your computer.
As time goes by, your computer becomes slower. This is due in part to an excess of files or unused programs on your PC or Mac. To help free up space and keep your computer running in tip-top condition, consider implementing these helpful tips into your computer maintenance.
Organize Files and Folders
Having a good folder structure is essential to keeping your computer well organized. Instead of keeping all your files in one single folder, utilize a variety of virtual folders that are clearly labeled to help you easily find and store your important documents, pictures, files, videos, etc.
If you have a tedious method for locating documents, it's going to take you a long time to find what you need. Here are some tips for creating an organization system that will streamline your workflow.
Name Folders as Keywords – If you name folders with keywords, such as "Work," "Personal," "Medical," "Taxes," etc., you can quickly locate the folder you need. Specific file names are even better.
Unique Folders – Make sure that folders are unique. For example, if you have a medical file, don't put information in another file. Put everything medical related in the file so you can easily search for what you need.
Templates – Create templates for files or projects. If you have a tax file that has spreadsheets with formulas, set up a template so you can easily reuse this file year after year.
Delete Junk Files, Old Files and Unused Programs
Deleting your junk files is essential to keeping your computer running fast. Here's how to delete your junk files:
PC – If you have a PC and are running Windows 7, 8.1 or 10, use the Disk Cleanup tool to delete your junk files. Click on the Start button and type "Disk Cleanup" and click on the "Disk Cleanup" shortcut that appears in your search results. If you can't find the tool, type "free up disk space" to search for the program. There are several different options that will pop up, including:

Deleting Downloaded Program Files
Temporary Internet Files
Recycle Bin
Temporary Files
Thumbnails
Delete Browsing History, which also includes temporary internet files, cookies and website data, history, downloaded history, form data and passwords.

Mac – If you have a Mac, follow these steps:

Select "Finder"
In the "Go" menu, select "Library."
Open "Caches"
Select all the files you would like to remove and then select "Move to Trash."
If you want to delete unused applications, pull down the Apple menu, select "About this Mac."
Go to "Storage" and select "Manage."
Choose "Applications" from the left-hand menu.
Delete Duplicate Files
If you have duplicate files on your PC or Mac, you should consolidate these to free up valuable hard drive space.
PC – Download a program, such as "Duplicate Cleaner."

Start the program and search for duplicate files and folders, images, music, etc.
If there is a file you don't want it to scan, you can use the Selection Assistant to select files by dates, groups, folders, drives and much more.

Mac – Mac has several different ways to find and delete duplicates files.

iTunes – When in the program, select "File," "Library" and then "Show Duplicate Items." You can delete the duplicate items that appear in the results.
Finder – Select the program and then go to "View." Select "as List" and then "Show View Options." You can search by "Size" and "Kind."