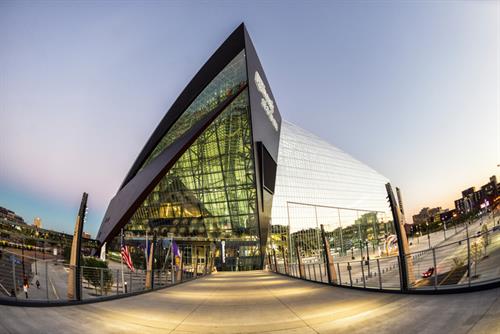 Are you ready to catch this year's Super Bowl? Whether you want to watch the game live or record it using your LOOP Whole-Home DVR system, Home Telecom has the information you need to stay on top of this year's big game.
Date: February 4, 2018
Time: Approximately 6:30 PM EST
Location: U.S. Bank Stadium, Minneapolis, Minnesota
TV: NBC
Streaming: NBC Sports Live, fuboTV
Did you know that this year marks the first time one network – NBC – will carry both the Super Bowl and Olympics since 1992? Additionally, these sporting events are spaced a mere five days apart this year, which means you can get your winter sports filled fun crammed into February.
Super Bowl LII News
Here are the predictions, news and highlights for this exciting event.
Odds favor a Patriots-Vikings Super Bowl
Justin Timberlake will perform the Super Bowl Halftime Show. He'll surely have people everywhere rocking their bodies and crying rivers to "Can't Stop the Feeling." Timberlake was only 23 when he graced the stage with his infamous performance with Janet Jackson back in 2004.
Super Bowl Commercials
As eagerly awaited as the big game itself, Home Telecom has a sneak peek into what companies will be paying the big bucks for Super Bowl LII commercials.
Hyundai – Having the most effective ad last year, Hyundai is returning this year after introducing their "Better Drives Us" campaign.
Avocados from Mexico – A fan favorite, their senior marketing director promises more lighthearted humor for this season's commercial.
Bud Light – They're bringing back their popular "Dilly, Dilly" campaign.
Budweiser – Instead of using the same agency behind the past seven years of commercials, Budweiser is using a different source this year.
Doritos – Last year, fans missed seeing a Super Bowl Doritos commercial. However, this year Doritos is back.
M&M's – Returning to the Super Bowl, M&M's purchased a 30-second spot this year.
Pringles – After sitting out several Super Bowls, Pringles will be airing a 30-second "Flavor Stacking" commercial.
Stella Artois – In a statement released by Stella Artois U.S. vice president of marketing, Harry Lewis, said: "Earlier this year, Stella Artois announced a commitment to help Water.org provide 3.5 million people access to clean water by 2020, and this Super Bowl commercial will help us achieve our goal ahead of schedule and help change the lives of millions of people."
Groupon – Their 30-second spot will feature a yet-to-be-announced celebrity endorsement.
If you cannot see the big game live or you want to guarantee you don't miss a moment of football or commercial action, make sure to record it using your LOOP Whole-Home DVR. After all, you'll need to be up-to-date on the game plays, and latest hilarious commercials around the water cooler post Super Bowl Monday.