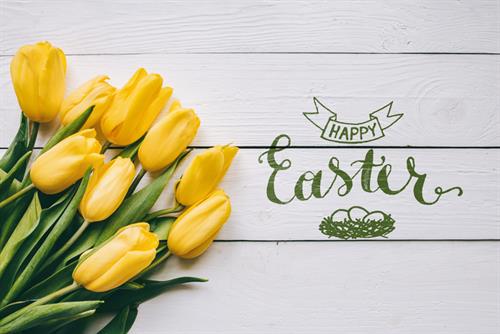 Spring has officially arrived, and nothing marks this special occasion more than Easter and Spring Break! If you're looking for some fun-filled family activities, check out some of the latest Lowcountry events.

Annual Flowertown Festival – When the flowers start blooming in Summerville, the festival is around the corner! Running from April 6 through April 8, this festival has it all: kids rides and activities, unique decor and gift stands, works of art, and delicious food! The best part is that it's all with the backdrop of beautiful blooming azaleas, wisteria, and dogwood trees! (Visit the website for more information.)
Easter Weekend Brunch – Running March 31 through April 1, this delightful brunch features a traditional southern brunch buffet and seasonal specials. (Middleton Place, 4300 Ashley River Road, 843-266-7477 for reservations)
Annual St Stephens Catfish Festival – Running from April 6 through April 8, this festival includes live entertainment, rides, and much more! There is also a tasty catfish stew cook-off as well! (124 Hood St, Saint Stephen)
Easter Eggstravaganza – Kids can bring their own Easter basket and hunt for eggs that are hidden throughout Middleton Place Gardens. Kids can take their egg treasures to the Stableyards and dye them. Activities include colonial games, an Egg Roll, Egg Toss, Easter crafts, and classic stories. (Middleton Place, 4300 Ashley River Road, 843-266-7477 for reservations)
Hat Ladies 17th Annual Easter Promenade – Grab your camera and enjoy the elegant Easter Promenade down Broad Street. This event is on March 31 and runs from 11:00 AM to 11:30 AM.
Sunset at Fort Sumter – Starting up again on March 30, experience a sunset tour of Fort Sumter, which is presented by the National Park Service rangers. Relax, enjoy southern BBQ cuisine and a variety of cocktails. Reservations are highly recommended and can be made by calling 843-722-BOAT. (Liberty Square, 340 Concord Street)
Annual Festival of Houses & Gardens – This annual tour gives a peek behind some of the area's most private residences. This year's tour includes seven to 10 properties daily in different neighborhoods, with homes dating back to the American colonial period. (Visit the website for more information.)
Cooper River Bridge Run Health & Wellness Expo – One of the largest and most influential expos in the country, mingle with 150 vendors and see the latest nutritional information, athletic wear, samples and more. The event runs April 5 to 6 and is at the Charleston Area Convention Center. This is the perfect opportunity to get your gear ready for the Annual Cooper River Bridge Run (10K) that will kick off at 8 am on April 7th.
Hollywood: The Golden Age – Enjoy this unique cabaret theater that highlights Hollywood's bygone musical era. Drinks and desserts are served throughout the performances, which run through April 8. (Charleston Performing Arts Center, 873 Folly Road)
Young Contemporaries – Featuring the work of college students, the exhibition recognizes a wide range of media, including sculpture, paintings, print, and photography and runs March 29 through April 28. (Halsey Institute of Contemporary Art, 161 Calhoun Street)
Spring Programs in Your County Parks – Take advantage of a wide range of activities, including Intro to Climbing, Spring Break Explorers program, Early Morning Bird Walks, Starlight Yoga and much more. Check out availability and times here.
Volvo Car Open – Charleston is proud to be the backdrop for the world's largest women's only tennis tournament. This tournament runs March 31 through April 8. (Volvo Car Stadium, 161 Seven Farms Drive)
The Charleston Museum – Enjoy Spring Break at the Charleston Museum. Explore fossils, rocks, skeletons, mummies and more at their unique exhibits. (The Charleston Museum, 360 Meeting Street)
Kiawah Island Art and House Tour – ON April 6 from 1 to 5 PM, you can tour five private homes in an exclusive gated community. Advance tickets are available for purchase at this one-of-a-kind event.