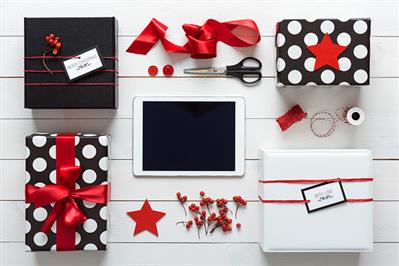 No matter what is on your wish list this holiday season, 'tis always better to give than receive. This year, technology gifts are hotter than ever, so you can give the perfect gift that is sure to put a smile on anyone's face. See below for some of the best tech gifts offered.
Jabra Elite 65t Completely Wireless Earbuds - For the music lover in your life, these earbuds are easily the best quality for their price range. With noise cancellation, excellent wireless connectivity, five full hours of battery life and charging case that offers up to ten more, these comfort fit earbuds will offer hours of play. Cost: $159.
Apple Watch Series 4 GPS Smartwatch - For those dedicated to the Apple universe, this watch is a must-have. It features a larger screen, optional cellular connectivity and is completely waterproof. Want even more? With a GPS feature and the capability to connect with several partnered devices such as Nike, this watch can be an all-in-one gadget for those who need a break from their iPhones. Cost: $399
Google Home Hub - This hub is all you need to completely transform a home into a smart home. With a sleek design and the ability to sync to most smart house devices, your recipient will be thrilled with how easy this is to use. They can do everything from control the lights to play videos and even sync their photos to be displayed when the device is not in use. Cost: $149.
GoPro HERO7 Black Action Camera - The stabilization features on this action-packed camera alone make this one of the most highly sought after products for adventurers. With great connectivity and the ability to shoot 60 frames per second, this camera is the perfect tool to help capture your next adventure. Cost: $399.
Amazon Echo Plus (2nd Gen) Smart Speaker - This second generation speaker offers great improvements, with seven microphones, bass enhancement and an impressive Dolby 360-degree sound for your favorite tunes. Available in three fabric colors, this smart speaker is perfect for the friend or family member new to smart home features. Cost: $149.99.
Anki Vector Robot Sidekick - This adorable robot companion is one of the best gadgets for anyone on your list. It can answer questions, play games and navigate its way around with an HD camera, including back to its own charging dock. It even reacts to touch! Cost: $174.99 on Amazon; price varies in other retailers.
Microsoft Surface Go Windows 10 Tablet - This tablet is enough to replace any laptop, with a super sharp 10" touchscreen and excellent battery life. With a separate detachable keyboard and stylus pen sold separately, this PC is perfect for anyone who needs something small and powerful on the go. Cost: $399.
SanDisk Extreme Portable SSD - This portable storage device can hold up to 2 TB of data, and can connect to any PC or Mac easily. It can also connect to any USB-type C compatible devices like smartphones, but comes with a USB-type A adaptor as well. Cost: $109.
Oculus Go Standalone Virtual Reality Headset - More than just a gaming system, this headset takes the user right into the reality. With choices between 32 and 64GB of storage space, over 1,000 games to choose from, and an intuitive controller that makes the experience one of a kind, this headset is perfect for the ultimate gamer. Cost: $199.
Omnicharge Omni USB-C Portable Power Bank - Perfect for the world traveler, this portable power bank has outlets for any type of device, so the recipient is never stranded with a dead battery. Keep total control with a LED display so the battery life and heat control are always easy to monitor, and with a power of 60 watts, this power banks can charge even the most powerful of gadgets. Cost: $199.