MONCKS CORNER, SC March 12, 2019 – Cane Bay High School senior Zoe Black won 1st Place in Home Telecom's 5th Annual Directory Art Challenge for her artistic creation, "Carolina Wren". Her artwork graces the cover of Home Telecom's 2019 inclusive services directory for Moncks Corner and its surrounding areas, including Harleyville and St. George. The 2nd Place winner is Sunni Kourani, a 7th grader at Berkeley Middle School for her "Santee Canal Park"; and Johnathan Gregory, a 5th grader at Berkeley Intermediate School took 3rd Place for his artwork titled "Carolina Wren".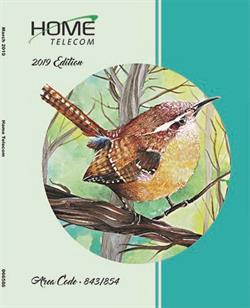 All art students from the Berkeley County School district were invited to submit original artistic depictions of historical scenes and local events from the Lowcountry. Dozens of talented art students ranging from elementary to high school, competed this year.

Three overall winners (as well as runners up and honorable mention) were chosen from three categories: high school, middle school, and elementary school level. The Art Departments at all winners' schools will be awarded cash prizes to be used for more art supplies, compliments of Home Telecom.

"Every year the competition gets harder to judge and even more challenging to choose a single first place overall winner from an array of inspirational and outstanding works," says Gina Shuler, Vice President of Marketing at Home Telecom. "We have watched this competition grow from year to year and we are thrilled to see so much engagement coming from the schools, its teachers, supervisors, and its students."

The total amount awarded to contest winners this year will be $5,850. Since the contest's inception in 2015, Home Telecom has contributed over $27,000 to Art Departments in Berkeley County.

Home Telecom thanks all the students who participated in the contest and offer congratulations to all the winners, and especially to Zoe for bringing such a spectacular original artistic portrayal of our region to the cover of the 2019 services directory.

About Home Telecom
Home Telecom is an integrated communications provider located in Moncks Corner, SC providing telephone, high speed Internet, video, and security services to residents and businesses in Berkeley, Dorchester and Charleston counties of South Carolina. They utilize a variety of state-of-the-art technologies, most notably FTTP technology, making them a leader in providing the fastest broadband internet services in the state.

Contact Caoimhe Zett at Home Telecom, caoimhe.zett@hometelco.com, 843-761-9859 for more information.