Unveiling New "Concept" Collaborative & Entrepreneurial Office Space

MONCKS CORNER, SC July 29, 2019 –Home Telecom is celebrating the official construction kickoff of their new $6 million, 20,000 square-foot office and retail center located in CoOp@Nexton at 1247 Nexton Parkway in Summerville, Wednesday, July 31 at 10:00 a.m.

Berkeley County Supervisor and Council Chairman Johnny Cribb, and Brent Gibadlo, Vice-president and General Manager of Nexton will be the keynote speakers at the event.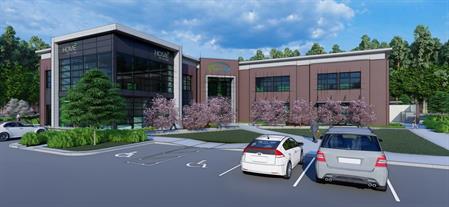 Home Telecom announced last winter they had purchased land in Nexton, one of the Lowcountry's fastest developing commercial centers, with intentions of building a new high-tech office building powered by multi-gigabit wired internet and WiFi.

What Home Telecom will be revealing Wednesday is not just a $6 million contemporary two-story office building but they will also be introducing "Concept" – 8,000 square-feet of shared conceptualized office space on the second floor. The Concept space is specifically designed for technology entrepreneurs, small startup businesses, and work-from-home professionals looking for a place to collaborate.

As part of Nexton's exciting new mixed-use development, Home Telecom will feature a convenient customer service center on the first floor surrounded by 5,200 square feet of ground-level office and retail space.

"It is fun to think that Home Telecom founder R.O. Winter lived at a time of high technology in 1903, and he was advancing the newest technology available in the form of a telephone in every home and business," said Home Telecom President and CEO, William Helmly. "More than a century later, Home Telecom is still leading the way with a new building that represents the most forward-looking aspects of today's technology. I cannot think of a more appropriate celebration of our 115th anniversary."

The new facility, including Concept, is scheduled to open May 2020. Home Telecom will be moving customer sales and support representatives and certified technicians to the new Nexton location to better serve the growing population in the Summerville area. Home Telecom has already begun hiring and training staff for this location.

Home Telecom has partnered with Bridge Commercial to lease the gigabit capable 13,200 square feet available. This co-working/office/retail space with ground floor retail opportunities and easy access to I-26 in an economically vibrant section of Summerville, is the ideal location.

Contact Caoimhe Zett at Home Telecom for more information: caoimhe.zett@hometelco.com or (843) 761-9859.