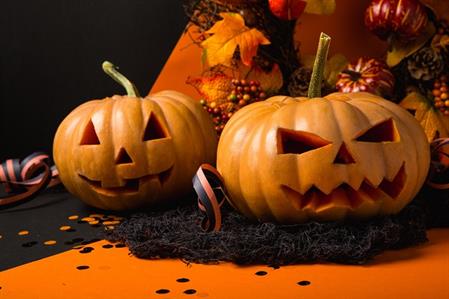 Halloween may look a little different this year amid social distancing and mask requirements, but that doesn't mean you can't make it as fun as year's past for kids and adults alike. We've rounded up a list of favorite fall activities and recipes that will make this year po
Festivals
Lowcountry Halloween Fest
Sunday, October 25, 12 PM to 6 PM
Citadel Mall, Charleston - 2070 Sam Rittenberg Boulevard
If you are looking for a more traditional event, try the Lowcountry Halloween Fest on Sunday, October 25, at Citadel Mall. Rest assured, social distancing policies will be in effect. This fun festival includes trick-or-treating with local businesses, and children can enjoy a bounce house, balloon animals, a photo booth, face painting, crafts and other hands-on activities. You'll even see special guests that will make an appearance! But, get in line early because only the first 1,500 trick-or-treaters will be guaranteed candy.
West Farm Corn Maze
October 2 - November 1
Wednesdays and Thursdays: 10 AM until 5 PM
Fridays and Saturdays: 10 AM until 10 PM
Sundays: 10 AM until 7 PM
2641 Cooper Store Road
Moncks Corner, SC 29461
Take a tour of the West Farm Corn Maze! This year's theme is God Bless America. Families can enjoy various activities, including a pumpkin barn, children's area, animal viewing, hayride and even grab a bite to eat from one of the many food trucks.
Town of Moncks Corner Trunk or Treat Drive Through
October 28, 6:00 PM
418 East Main Street Moncks Corner
This spooktacular Halloween festival includes FREE admission and features costumes contests, music, children's activities and trick-or-treat on the street. A must-see event is the costume contest at 7:00 PM.
Activities
If you're on the lookout for family-friendly activities your kids can do with a small group of friends at home, consider some of these fun-filled options.
Slime - Make scary witch slime and pumpkin slime! Activities like this present great science experiments for kids. They'll get to learn while creating something they can play with all month long.
Scary Books - Read some scary books together while enjoying family time. We recommend The Berenstain Bears, Goodnight Goon, The Witches and the Goosebumps series.
Scavenger Hunt - Some of the large Halloween events may have been postponed this year, but you can easily create a scavenger hunt for kids, leaving funny, hilarious clues along the way. Not sure where to start? Check out this guide.
Bobbing for Apples - While this is a long-standing old-fashioned Halloween tradition, it has nearly been forgotten. So, bring it back! Get a tub, fill it with water and add apples. As a bonus, find a local orchard, pick some apples and then bob for them in your backyard.
Decorate - In the past, maybe you left decorating to your neighbors or your child's teacher, but if your child is remote this year, decorate your house like a Halloween wonderland, so they don't miss out on any of the fun. Remember to make it a family affair too, and get the kids to help out!
Pumpkin Patches - Pick your own pumpkins straight from the patch this year and carve them at home with your kids. Are you artistically challenged? Check out these easy, kid-friendly carving ideas! If you would prefer to avoid using knives, consider painting your pumpkins instead.
Homemade Costumes - Instead of buying costumes this year, consider enlisting your child's help. Here's a list of 98 easy Halloween costumes you and your kids can make at home.
Movie Marathon - If the weather calls for staying indoors and watching movies, celebrate the month of October with a Halloween movie marathon. Our favorite picks include the entire Harry Potter series, The Adams Family, The House With a Clock in Its Walls, Goosebumps, Hotel Transylvania, Frankenweenie, Coraline, The Haunted Mansion, Casper and Hocus Pocus.
Recipes
Enlist your kids to begin helping in the kitchen by making some homemade family-friendly Halloween treats. Here's a list of our top five recipes we're cooking up this October.