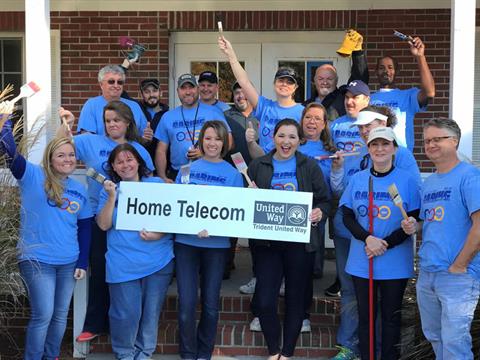 Every year, Home Telecom gives back to the local community. They provide money for community outreach programs, including health care, education, human service and environmental programs, recreation and more across the TriCounty area.
More than giving money to community causes, Home Telecom's employees regularly volunteer their time to causes that help those in the greater TriCounty area. Whether it's volunteering to fight against cancer by participating in the Relay for Life, serving on educational program boards to help benefit today's youth, our employees are deeply committed to our community. Other volunteer causes close to our employees' hearts include United Way's annual Day of Caring. Home Telecom is committed to donating thousands of dollars each year to little league teams, scholarships, both public and private schools, local chapters of national non-profits and senior citizens. Home Telecom focuses on investing locally in both businesses and volunteer programs.
Committed to Helping Improve Communities
Home Telecom has invested in robust technology to help support economic development. We are committed to providing top-rate telecommunications by helping to:
Utilize fiber technology to provide video conferencing and high-speed internet to schools and areas for distance learning during the pandemic; Fiber-to-the-home, state-of-the-art and fiber-to-the-business technology to businesses and homes;
Work to deploy DOCSIS 3.1 High-Speed Cable Modem Internet Service.
Provide app based video service.
We also believe in providing our customers with continuing education for new technologies and specialized services. Learn more about Home Telecom's commitment to our community.