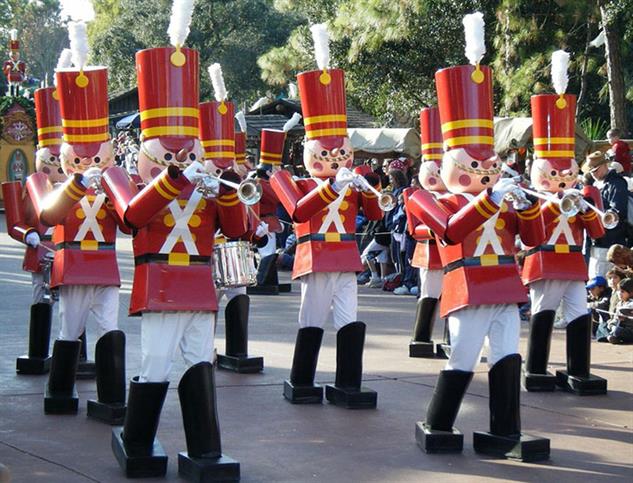 If you're looking for a fun-filled, southern Christmas adventure, Charleston offers an A-list of top attractions that are enjoyable for the entire family. The Charleston holiday experience is at the top of our list, as it features a variety of winter festivals, seasonal events and fabulous shopping.
Here are some exciting attractions to check out this season.
Marion Square is a great place to stroll and take in the holiday festivities. Many visitors even plan their trips to the Holy City for this one-of-a-kind market so they can get their holiday shopping done in one place. Remember to bring cash as not all vendors accept credit cards and your own bag for your goodies.
This annual crowd-pleasing drive-through festival of lights is located in James Island County Park and includes a variety of classic holiday lights, snowmen, reindeer, Santa Claus, and the North Pole workshop. The area teams with family-friendly activities, especially if you explore the park's grounds.
The annual Dickens Dinner gathering is at Wentworth Mansion. Prepare to be transported back in time to 1886 and enjoy a live retelling of Charles Dickens' "A Christmas Story" along with a delicious four-course holiday meal that is inspired by the classic novel and features delightful meals such as Welsh Rarebit Salad and Sir Scott's Christmas Pudding. This annual event always sells out, so be sure to book early.
Middleton Place is one of Charleston's most iconic, beautiful plantations. The Grand Illumination Dinner features a reenactment of Arthur Middleton returning after the Revolutionary War. The dinner features period dress, roaring fireplaces, traditional food and beverages and decorated plantation grounds, helping you to be transported to Charleston circa 1782. Remember to dress warm so you can fully explore the breathtaking grounds.
Tour old Charleston and the areas where the motor coaches and carriages are not allowed to roam freely. Enjoy delightful walking tours that feature stories and highlight the traditions of the area's colorful history and past. Charleston's incredible history spans from 1670 through the Civil War and to the present, which makes for fascinating historical highlights. Since Charleston has above-average temperatures for wintertime, check the seasonal forecast before embarking on this outside tour.
Open daily in December, the Children's Village is a family-friendly activity that features a life-size Christmas village, including Santa's workshop, a gingerbread house, a candy factory, an elf bunkhouse and even pet-friendly areas. The site also features a Christmas Train Depot that features 150-minutes rides that highlight the grounds. Make sure to bring your camera to capture your kids with Santa and Mrs. Claus.
Join the community to celebrate the holidays on December 8, 2019, and experience the magical beauty of holiday lights, a spectacular fireworks show and holiday activities at the Mount Pleasant tree lighting and Christmas Light Parade. Make sure to grab your spot early, as crowds begin lining up as early as 5:30 PM.
The area's most significant, premier New Year's Eve event is on the retired USS Yorktown. Lively and exciting, this event features a DJ, live bands, hors d'oeuvres and some pretty impressive cocktail attire. Since only light appetizers are available, we recommend you eat dinner before embarking on this late soiree.
Enjoy the spectacular Holiday Lights Driving Tour that features a variety of light displays. Children can visit with Santa, enjoy rides, roast marshmallows, eat food and drink hot chocolate. Admission fees benefit local charities.
Experience this fun run/walk event at the Old Santee Canal Park in Moncks Corner. Held on November 17 from 5:30 to 8:00 PM, the two-mile course offers a fun sneak peek into the Celebrate the Season tour mentioned above. No pets are allowed, and an adult must accompany children.
If you can't get enough of holiday races and fun runs, check out the Nexton Cocoa Cup 5K on December 21. All entrance fees benefit the Lowcountry Food Bank and East Cooper Community Outreach. Registration is now open, so sign up early for this event!