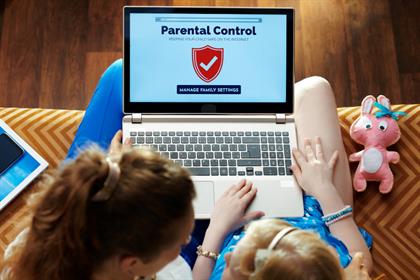 For many of you, it's been a long summer and if your children are like many kids across our post-COVID nation, their time on devices has likely increased dramatically post stay-at-home school. If you want to limit the time your children spend on devices, learn how to enable parental control.
Why It's Necessary to Enable Parental Controls
Did you know that children between the ages of eight and 10 spend an average of eight hours daily on electronic devices for entertainment? Children spend nearly four of eight hours watching television. Additionally, screen time jumps dramatically for children between 11 and 14, averaging almost nine hours a day!
These sedentary behaviors are giving medical professionals cause for alarm as child obesity rates soar. One study concluded that pre-pandemic obesity affected approximately 19 percent of children. However, a study of more than 400,000 children found that their body mass index (BMI) nearly doubled during the pandemic compared to pre-pandemic percentages.
Medical professionals believe the increase is due to children spending more time on their screens for school but not being able to break these habits when they are on summer break or at home
On top of soaring obesity rates and children not getting outside to exercise, there is a lot of content on the internet that is not appropriate for children, and the dark web even has child predators lurking and phishing for information.
Are you wondering what you can do to help protect your children's mental and physical health? The good news is that Home Telecom has features to allow parents to enable parental controls on devices.
Content Parents Can Limit Via the MyWiFi Xtreme App
Home Telecom's MyWiFi Xtreme subscribers can limit content and enable parental controls on their children's devices. Additional features of limiting content include:
Set Time Limits - Did you know you can set time limits on specific applications using the MyWiFi Xtreme App? Studies show that social media addiction may not yet be recognized by the Diagnostic and Statistical Manual of Mental Disorders, but experts believe it's a real disorder affecting children. Research shows a link between social media use (Facebook, Instagram, Snapchat, TikTok, etc.) and depression in teens. Additionally, many games can also be addictive, such as Fortnite. The physical effects of device addiction are well documented. They include bad posture, backaches, neck and shoulder strain, Carpal Tunnel Syndrome, headaches, eye strain, stress, poor sleep patterns and physical fatigue. Consider setting time limits, such as 30 minutes daily, for social media and addictive games.
Block Entire Categories of Content - Turn off violent, pornographic or other inappropriate content for children.
YouTube Restriction and Safe Search - In the MyWiFi Xtreme App, parents can select two buttons for a safer online experience for their children. Safe Search will filter content in both Bing and Google search engines. The YouTube restriction will limit content in the application. When this option is selected, it will block inappropriate comments people post on YouTube videos.
Prioritize Applications or Devices - My WiFi Xtreme gives parents control over their children's devices and provides network control for the entire home to help prioritize the subscriber's overall internet experience. For example, you can prioritize bandwidth for your work laptop, which will decrease children's ability to stream games while you're working. This way, the family doesn't fight for bandwidth since work or parental devices are prioritized.
How to Enable Parental Control on MyWiFi Xtreme App
Parents can rest easy knowing that Home Telecom has parental control features that focus on putting parents back in charge. To learn how to enable parental control on your MyWiFi Xtreme App, check out the following videos that feature step-by-step instructions.
Sign Up For MyWiFi Xtreme
If you don't have MyWiFi Xtreme and are interested in learning about the benefits of this service, visit our FAQs. You can also sign up for MyWiFi Xtreme here.