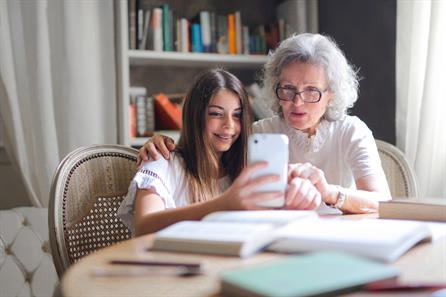 On Sunday, September 12, we join the celebration of Grandparents Day. Whether you're celebrating in-person or online, we encourage everyone to reach out to their grandparents and learn more about how they grew up and the trials they faced.
History of the Celebration of Grandparents Day
In 1969, Russell Capper, a nine-year-old boy, wrote and sent a letter to President Nixon suggesting that he set aside a day to celebrate grandparents. The Personal Secretary to the President wrote Russell back and said that the President only issues proclamations for special observances with a Congressional resolution, which provides him with authority to do so.
Following Russell's letter, Marian McQuade was officially recognized by the U.S. Senate and later President Jimmy Carter as the official founders of National Grandparents Day. Marian wanted to help educate children about the importance of their grandparents - and seniors - and the necessary contributions they make to society and throughout history. If children didn't have grandparents living or within close proximity, they encouraged them to "adopt" a grandparent to learn more about their life's experiences, the challenges they faced and overcame, and what they wanted for our nation's future.
On August 3, 1978, President Jimmy Carter signed the official proclamation designating the first Sunday following Labor Day to be National Grandparents Day.
Why is the Celebration of Grandparents Day Important?
Grandparents are part of our family, but unfortunately, they won't live forever. However, if we learn more about their stories and their lives, we can help preserve their memories. Cherish the moments with those that are alive today so we can create lifelong memories of them tomorrow.
How You Can Participate in the Celebration of Grandparents Day
If you live close-by and there is no chance of giving our seniors exposure to COVID-19, a socially-distance appropriate visit with grandparents is a great way to show your appreciation. If they live far away, consider sending a floral arrangement or a card and calling them for the celebration of Grandparents Day.
If your grandparents are a little more high-tech, opt for video chatting via FaceTime or Zoom. Setting up video chatting equipment for your grandparents to continue using is also a great gift! Consider giving them a lesson on technology in exchange for some great family stories. If they don't have a high-speed internet connection, consider talking to them about getting connected so you can learn more about your family history.
Additionally, AARP says that there is evidence suggesting that the more children know about their family's history, the less depression and anxiety, and higher self-esteem they will exhibit as they grow older.
Celebrate this special day with your grandparents and learn more about them and your family's history!