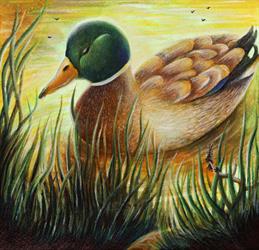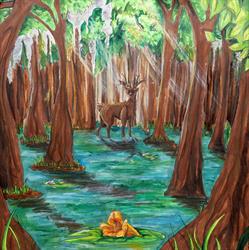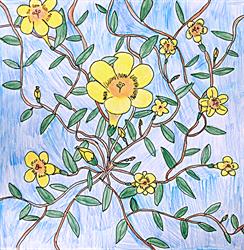 MONCKS CORNER, SC March 16, 2022 — The talented Timberland High School art student Zyaire Gourdine is the artist behind the stunning artwork entitled "Sailing into the Cove," featured on the cover of Home Telecom's 2022 Directory. Gourdine's artwork was selected as the Overall winner of Home Telecom's 8th Annual Directory Art Challenge.
Every year, Home Telecom offers a challenge to Berkeley County School District art students to submit original artistic depictions of nature, historical scenes, and local events from the Lowcountry. Dozens of talented students ranging from elementary to high school, compete for the top award.
The contest always showcases the superfluidity of artistic talent on display throughout Berkeley County schools and highlights the many gifted art teachers that draw out that talent from their students.
Marrington Middle School student, Madison Egge took 2nd place overall with her artwork titled "Swamp Deer"; and Avory Mathews from Berkeley Intermediate School won 3rd place overall for the artwork titled "The Southern Jasmine."
The Top 3 overall winners were chosen as the winners in each of their grade categories: high school, middle school, and elementary school. Second and third place winners in each of these respective categories were also awarded.
Nine honorable mentions from all three age categories were also selected for rewards.
The Art Departments at all winners' schools will be awarded funds to be used for more art supplies, compliments of Home Telecom.
The total amount awarded to contest winners' schools this year was $6,150. Since 2015, Home Telecom has contributed more than $45,000 to art departments throughout Berkeley County schools from this contest.
"The annual Directory Art Challenge is one of our favorite events every year because it allows us to put on display the unbelievable talent of our local students," said Gina Shuler, Vice President of Marketing at Home Telecom. "They always overwhelm us with an array of skill, inspiration and awe that makes it increasingly difficult to narrow it down to a single winner every year."
Shuler continues, "Home Telecom thanks all of the students who participated in this contest, and we are grateful as well to the art teachers for their help in making this Art Challenge possible."
The remaining Art Challenge recognitions in the high school category include 1st Place, Zyaire Gourdine from Timberland High; 2nd Place, Isabella Tumey from Philip Simmons High with "Protect Our Locals"; and 3rd Place went to Mikayla Lawrence at Cane Bay High School with her "Southern Life."
In the middle school category, 1st Place went to Madison Egge; 2nd Place went to Taylor Rinehart from Hanahan Middle School with "Spotted Salamander"; and Lyric Cureton from Sedgefield Middle School took 3rd Place with "Southern Beauty."
In the elementary school category, Avory Mathews took 1st Place; Rahma Rezk from Hanahan Elementary took 2nd Place with "Frog Pond"; and 3rd Place went to Dillon Ramos-Martinez from Philip Simmons Elementary School with "Turtle."
Honorable mentions went to Madibeth Sapalu from Stratford High; Sophia Heckman from Goose Creek High; Angelina Ogarro from Cane Bay Middle School; Liberty LePine from Westview Elementary; Malaysia Lampkin from JK Gourdin Elementary; Kaylee Hirth from Cane Bay Elementary; Miriam Baughman from Howe Hall AIMS; Jehwaun Gaston from Goose Creek Elementary; and Harper Thielmann from Marrington Elementary School.