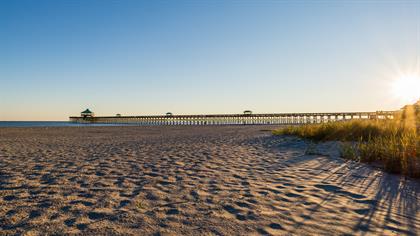 May community events are right around the corner and it's never been a better time to get out and explore Charleston, Moncks Corner and the Low Country areas.
North Charleston Arts Fest
May is a beautiful month in Charleston! So step outside and experience North Charleston Arts Fest. This five-day event features local and regional performers and artists that excel in dance, theater, music, visual arts and literature. Stop by and take in free performances, activities and exhibitions. In addition, the festival schedule offers theater presentations, concerts, artist demonstrations, children's programs, exhibitions and more. Best of all, all offerings are free! May 4-9, 2022
Charleston Greek Festival
Come and experience the 51st Greek Festival in Charleston. This fun celebration highlights Greek culture, food, wine, live dancing and music. Dating back to 1970, this is the oldest festival in Charleston. With more than 35,000 attendees annually, you won't want to miss this festival! May 6-8, 2022
Taste of Beaufort
The annual Taste of Beaufort event features fantastic cuisine from the Lowcountry. Follow the community Facebook page for more information as it becomes available. May 6-7, 2022
Give Me Shelter Color 5K
Home Telecom is proud to sponsor the Give Me Shelter Color 5K. The Carolina Youth Development Center is also sponsoring this annual event. Participants in the event can either run or walk the three-mile route through Moncks Corner. This May community event benefits the Callen Lacey Center for Children in Moncks Corner and families served by CYDC in Berkeley County. Register for this family and pet-friendly event today! Saturday, May 7, 2022, from 9 AM to 12:00 PM at Moncks Corner Regional Recreation Complex (418 East Main Street, Moncks Corner)
Lowcountry Shrimp Festival and Blessing of the Fleets
The Lowcountry Shrimp festival is back after a two-year hiatus! For 43 years, McClellanville has hosted the Lowcountry Shrimp Festival and Blessing of the Fleet. Just a short drive off Highway 17 to Pinckney Street, the annual event focuses on blessing the village's shrimping fleet and celebrates local boat captains and crews preparing to kick off the shrimping season. Boats of all sizes decorated with colorful pennants and flags parade down Jeremy Creek to be blessed by the prayers of local clergy members for a safe, bountiful shrimping season. After the blessing, a floral wreath is laid on the waters to memorialize those lost at sea. Complete with local music and food vendors, this family-friendly event is one you won't want to miss. Stop by and see Home Telecom here too! Saturday, May 7, 2022, from 11:00 AM to 5:00 PM
Mead-ival Festival
This new "renaissance of mead" Mead-ival Festival features Bears Bluff meadery, themed food, events and vendors. May 21, 2022
Bluegrass Brunch
Nexton and the Town of Summerville are hosting a Bluegrass Brunch at Brown Family Park on Sunday, May 22nd from 11:30AM-2PM. Come check out the Southern Flavor Bluegrass Band while enjoying brunch from local food trucks. Admission is free!
Midtown Club Grand Opening
The Grand Opening for the Midtown Club is Memorial Day Weekend! If you live in Brighton Park, Midtown, or Del Webb, come check out this exciting new amenity! The Midtown Club features a pool, outdoor spaces, and a working space that is powered by GigaFi delivered by Home Telecom, exclusively in Nexton.
Lowcountry May Community Events Calendar
For a complete list of Lowcountry community events in May, including various concerts, nature walks, open houses and farmer's markets, visit the Lowcountry and Resorts Island calendar.