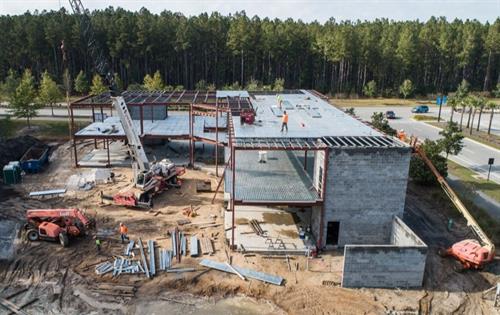 First Look at Home Telecom's New Technology
First Look at Home Telecom's New Technology and Retail Center in Nexton: Where Technology, Retail, & People Connect
Home Telecom's new 20,000 square-foot technology center is on the rise!
This is your first look at Home Telecom's new facilities in Nexton and we are excited about revealing it to you.
Why?
Because our new location, located in the Parkway District of one of Charleston's newest and most tech savvy business communities in the section known as CoOp@Nexton, is Home Telecom's next step in providing to our extended business and residential customers in Summerville, a convenient connection to … well, a little bit of everything!
Take a look:
New Home Telecom Customer Service Center
Convenient to business and residential, customers can pay their Home Telecom bill, order new or upgraded business and residential services, or get more information about those services at our 5,200 square-foot customer service center on the ground floor.
Ground-floor Retail and Office Space
Home Telecom's new building also includes a Retail Center with over 5,000 square-feet of retail and office space available on the ground floor!
With built-in multi-gigabit wired internet and WiFi, to home and office automation and security, leasing space in the new Home Telecom Technology Center will make your life and business more intelligent, more efficient, and better prepared for the future!
Nexton has become the Lowcountry's newest concept in multiuse developments, where residents and businesses alike are conveniently connected to restaurants and vital retail services, all in a pedestrian-friendly environment with easy on and off access to I-26.

If you are thinking of opening an eatery or a coffee shop, a retail outlet or a service business and you are looking for a dynamic location convenient to both a residential and business clientele - Home Telecom's exciting new location is what we call in medias res – that is, right in the midst of things!
Give us a call for more information about leasing.
Concept Entrepreneurial Collaborative
Many small businesses work remotely from internet cafes, a corner in the library, or from home because they do not have affordable access to advanced technology, customized services, and workspace flexibility.
Now, regardless of how small or at what stage you are in developing your ideas, Concept, located on the second floor of Home Telecom's Technology and Retail Center, will provide a fertile environment in which to grow your small or start-up business, and find the networking opportunities and support needed to fully see your "concepts" come to life.
Concept will offer entrepreneurs and start up technology companies a truly immersive experience and collaborative environment for growing your small technology business.
The future is coming soon - watch with us as business and lifestyle merge at Home Telecom's new Technology and Retail Center at the CoOp@Nexton!
Contact Us ...